Source: ADM1/9556 (selective extracts)
Annual Report of Minesweeping 1st November 1937 - 31st October 1938
Captain Fisheries Protection and Minesweeping, Portland
First Minesweeping Flotilla
HMS HEBE Senior Officer

HMS SEAGULL Divisional Commander

HMS NIGER

HMS SALAMANDER

HMS SHARPSHOOTER Divisional Commander

HMS HAZARD

HMS HUSSAR
Employed on Fisheries Protection
HMS Penzance, HMS GOSSAMER (LFNO Scotland), HMS Lilac, HMS Doon, HMS LEDA (North Sea), HMS Mastiff, HMS Boyne, HMS Colne.
General employment of Flotilla during the year under review.
First Minesweeping Flotilla
1. From 31st October 1937 until 9th December all ships were stationed at Portland exercising and training Reserve officers. HALCYON was relieved by HEBE on 10th November and passed into Reserve at Chatham.
2. The Flotilla dispersed to Home Ports for Christmas leave on 9-10th December. During this leave period HARRIER was relieved by SHARPSHOOTER, SKIPJACK by HAZARD and HUSSAR by SKIPJACK, HARRIER passed into reserve and HUSSAR commenced re-arming with a 2/5ths complement.
3. The Flotilla reassembled at Portland to continue the normal training programme on 16th January 1938. Trials of 'O' sweeps Mark II and III were carried out by SKIPJACK and the capabilities of ships were carried out during this period. Ship's companies were also put through the range. Ships dispersed to Home Ports for Easter leave on 17-18th March.
4. Captain R C Fitzroy relieved Captain PCW Manwaring as Senior Officer of the Flotilla on 1st April. HUSSAR relieved SKIPJACK and SALAMANDER reduced to 2/5ths complement to re-arm. SKIPJACK passed into the Reserve at Chatham.
5. The Flotilla reassembled at Portland on 23rd April and returned to the training programme. Large scale sweeping operations were carried out on 7-8th June.
6. After completing gunnery practices the Flotilla visited Brixham from 10-15th June where the Flotilla pulling regatta was held, the winner being SPEEDWELL. The Flotilla visited Dartmouth from 15-19th June. Both these visits were a success.
7. The Flotilla anchored in Weymouth Bay in their allotted berths for the visit of HM King George VI. All ships took part in the searchlight display on 22nd June.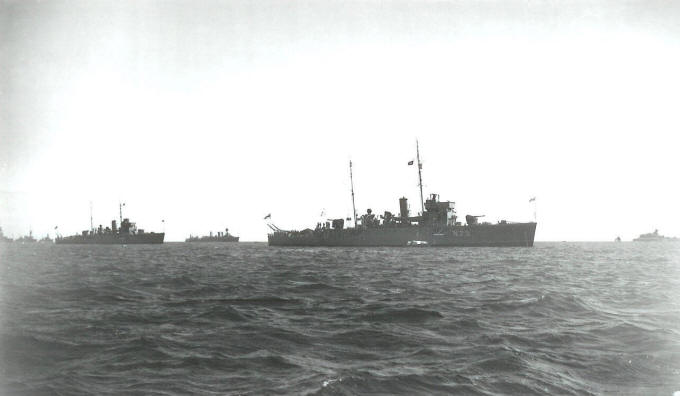 HMS Niger and HMS Hazard
(Source: NMM N10273)
8. On 21st June the Flotilla swept ahead of the Fleet when His Majesty flew his Standard in Nelson. One dummy mine was cut.
9. On 23rd June, HEBE, SHARPSHOOTER and NIGER sailed for Portsmouth. HAZARD proceeded for trials with deep danbuoys, and HUSSAR commenced another series of trials with the Mark III sweep. SPEEDWELL returned to Chatham to pay off on relief by SEAGULL.
10. At Portsmouth rehearsals for operations to be carried out in Exercise COX were held. HUSSAR and HAZARD rejoined at Portsmouth on completion of trials and the Flotilla sailed in company with units of the Home Fleet for the Combined Operations Exercise (COX) on July 5th. On July 7th, on completion of this exercise, ships dispersed on the summer cruise. Details are as follows:
HEBE - 7-9th July Devonport, 9-14th July St Peter's Port, 15-22nd July Rouen, 23rd July Portsmouth.

SHARPSHOOTER and HAZARD - 7-9th July Devonport, 9-14th July Fowey, 15-22nd July Dieppe, 23rd July Chatham.


Photo of Sharpshooter & Hazard at Fowey

NIGER - 9-15th July St Helier, 15-22nd July Exmouth, 23 July Devonport.

HUSSAR - 8-9th July Portland, 9-15th July St Helier, 16-22nd July Dover, 23rd July Chatham.
Of these ports, most popular were Rouen, Dieppe and St Helier.
12. Ships completed summer leave and sailed to rendezvous with HEBE off the East Goodwin Light Vessel at 1100, 27th August. SALAMANDER rejoined the Flotilla. The Flotilla sailed for the Baltic. HEBE, SEAGULL, SALAMANDER and NIGER visited Copenhagen, while SHARPSHOOTER, HAZARD and HUSSAR visited Frederiksted. Divisions arrived at each port on 31st August and sailed on 4th September. Copenhagen proved to be the more popular port. The Flotilla reassembled off the Skaw and proceeded to Invergordon, arriving September 6th. Sweeping in 'G' formation was practiced during the passage.
13. On arrival at Invergordon the Flotilla fuelled in preparation for Exercise MSA, due to commence on 7th September at 2000. GOSSAMER and LEDA were attached to the 1st MSF for the purposes of exercises MSA and MSB. The 1st MSF and attached vessels, including Motor Minesweepers 1, 2 and 51 were engaged in these exercises until pm 15th September. During the period, the international situation was deteriorating, and the 1st MSF was completed to war complement.
14. From 20-23rd September, a visit was paid to Nairn, which proved a welcome change from Invergordon.
15. On the night of 23-24th September the international situation became critical (Czecho-Slovakian crisis), and the 1st MSF, then in Inverness Firth, was ordered to sea at daylight to sweep a channel from the entrance to Cromarty Firth in a north-easterly direction. The Flotilla sailed at dawn and swept a channel two miles wide and 24 miles in extent from the Whistle Buoy.
16. The 1st MSF arrived at Scapa Flow on 24th September with the Home Fleet. The weather was bad, and in the gales four ships out of seven dragged. Considerable periods had to be spent at anchor watch. While at Scapa, ships of the Flotilla were employed ferrying Naval and Military units from Scrabster to the Orkneys. SEAGULL and LEDA who had been detached for rough weather trials in Icelandic waters on 15th September arrived at Scapa on 27th September having experienced sufficient rough weather to give a thorough test of the structure of SEAGULL.
17. LEDA and GOSSAMER were detached on 28th September, proceeding westabouts to Devonport.
18. The Flotilla left Scapa on 8th October, having been prevented by foul weather from sweeping the war channels at Scapa. They arrived at Invergordon on the same day.
19. While at Invergordon ships carried out gunnery practices, and reduced to peace complement. The Flotilla sailed for Portland on October 17th, calling at Rosyth en route, and arriving at Portland on 21st October.
20. The remainder of October was employed on gunnery and other exercises and ships commenced to half yearly docking programme.