Source: Ship's badges, Derek Taylor (National Maritime Museum)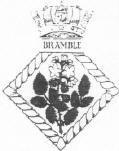 Bramble 1938: White - sprig of bramble all proper.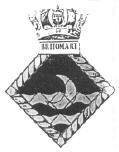 Britomart 1938: Blue - wavelets white, crescent gold, net black.
Fictitious name invented by Spenser for his 'Faerie Queen'. Design refers to Britomartis of Greek myths, who threw herself into the sea to escape the attentions of Minos but was fortunately saved by a fisherman's net. Crescent refers to her association with the cult of Artemis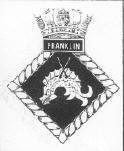 Franklin 1937: Blue - Dolphin white garnished gold, fishing spears also gold.
From the Arms of Sir John Franklin, Arctic Explorer who sailed in 1845 with Terror and Erebus seeking the North West Passage.

Gleaner 1936: Red - stalks of wheat gold
'Gleaning' - act of recovering corn that fell whilst harvest being cleared.
Motto : FRUGES CONSUMERE NATI - Born to reap its reward.
Gossamer 1938: Blue - spider's web gold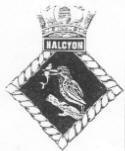 Halcyon 1933 : Blue - kingfisher gold, branch and fish silver.
Motto: AEQUOREM TEMPERO - I keep the sea calm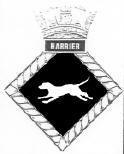 Harrier 1933: Green - Harrier hound gold
Motto: TENACITER - I follow tenaciously

Hazard 1936: Green - dice silver showing six spots black
Hazard is a dice game of chance
Motto: FACTA EST ALEA - the die is cast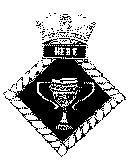 Hebe 1936: Red - drinking cup gold
Hebe was the wine server to the gods at Olympus
Motto: EN ATTENDANT - in attendance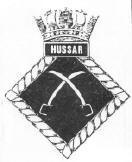 Hussar 1933: Red - sabre grips black, guards and blades silver
Motto: FORWARD (From Tennyson's Charge of the Light Brigade)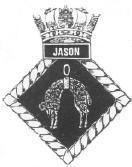 Jason 1937: Red - fleece and sling all gold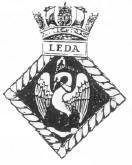 Leda 1938: Blue - wavelets white, swan also white, legs black, beak yellow, chain and collar gold, hand proper.
Zeus visited Leda in the guise of a swan.

Niger 1935: Red - interlaced triangles green, royal crown all gold.
A river in West Africa - from the Colonial Badge
Motto: NEC TIM NEC SPERNO - I neither fear nor despise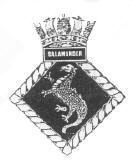 Salamander 1935: Red - salamander gold.
A Greek mythological lizard thought to be fireproof.
Motto: PER IGNES ET UNDAS - through fire and water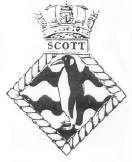 Scott 1938: Wavelets white and blue, penguin proper
Refers to Robert Falcon Scott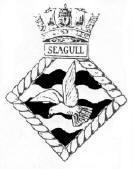 Seagull 1937: Wavelets white and blue, seagull white.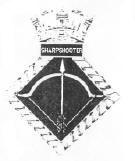 Sharpshooter 1936: Green, bow and string white, arrow all gold.
Motto: SWIFT AND SURE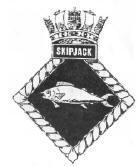 Skipjack 1933: Blue - bonito (skipjack) silver
Motto: PER SALTUS ATTINGO - by leaps I strike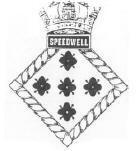 Speedwell 1934: White - flowers of speedwell blue, seeds gold.
Motto: 1st: BENE FESTINA - speed well
2nd CELERITER FESTINA - hasten swiftly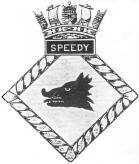 Speedy: White - boars head blue, tusks gold, tongue red.
From the Arms and motto of Admiral Cochrane (1775-1860) who captained the ship.
Motto: VIRTUTE IN LABORE - by valour and labour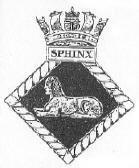 Sphinx 1939: Blue - sphinx gold