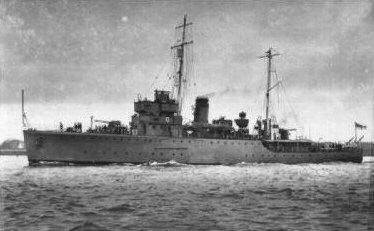 HMS Hebe
Date of Arrival

Place

Date of Departure

Orders, Remarks etc


Jan 1943


By the end of January the 17th MSF had accounted for 357 mines. In February, curiously, not a single mine was found, but in March a minefield was located by chance when another ship had been depth charging a submarine contact. This was 5 miles south-west of Filfla and 20 mines were swept here in depths of 250 - 500 fathoms.

More mines were swept at the beginning of April and by the end of the month the grand total reached 419.

?

Casablanca

19.3.43

?

Casablanca

27.4.43

9.5.43

Casablanca

?

Hazard in company, ETA Bark West 1220

15.5.43


On 15 May the four ships of the flotilla, with the MLs carrying out a shallow sweep ahead, started to clear a small field which had been laid just off Grand Harbour (St Elmo) by the Italians. Three mines were swept but a fourth was struck by SPEEDY and it exploded under her magazine, buckling the ship longitudinally and putting her shafts out of line. She suffered a number of casualties, two men killed, two missing and eight wounded. Although badly damaged she managed to limp back to harbour assisted by the others of the flotilla. Shortly after this HEBE was damaged from a near miss from a bomb while in harbour.


28.6.43

Algiers

?


SHARPSHOOTER, HAZARD and HEBE took part in the build up to, and the execution of, Operation 'Husky' (the invasion of Sicily). The slow assault convoy (KMS 18) after passing through position 35º00' N, 14º16'E was joined by the fleet minesweepers Hazard, Sharpshooter, HEBE and Speedy. Paravanes were to be streamed before reaching the 200 fathom line.

9th July D -1 The weather deteriorated during the afternoon and considerable swell created difficult conditions for the LCT convoy, M/S and other small craft in company. As the speed of the assault convoy had been reduced, sweeping from the 100 fathom line was dispensed with in order to arrive at the release position in time. The town of Pachino was observed to be on fire. The minesweepers cleared the way for the landing craft to go ashore on the beaches at 'Bark West' in the Eastern (British) sector to the west of Pt de Formiche, the southernmost tip of Sicily.

In the landings on Sicily 115,000 British and Empire troops and more than 66,000 Americans were landed on the island, starting on 10 July 1943. The minesweepers were engaged in a variety of escort and despatch duties. Seven days after the assault, HEBE, HAZARD and SHARPSHOOTER were ordered to Malta where they arrived on the 18th.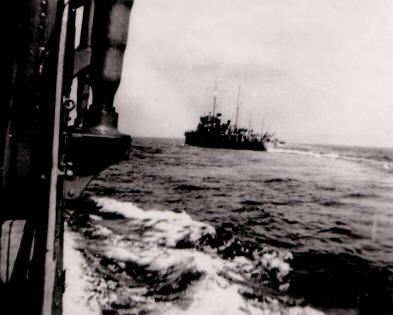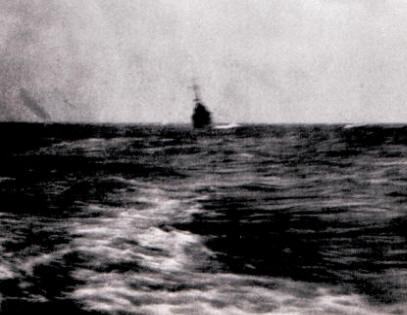 HMS Hebe photographed from HMS Hazard 1943
(Source: HMS Hazard Assoc)
13.7.43

Malta

13.7.43

15.7.43

Able Seaman Esrom May P/JX 194562 died.

7.7.43

Tripoli

17.7.43

18.7.43

Malta

9.9.43

?

Taranto

8.10.43

?

Taranto

19.10.43

20.10.43

Bari

?

22.10.43

Bari

?22.10.43

?

Bari

24.10.43

25.10.43

Bari

31.10.43

?

Brindisi

7.11.43

7.11.43

Bari

10.11.43

12.11.43

Malta

14.11.43

16.11.43

Bari


22.11.43


HEBE was sunk by a magnetic mine off the harbour entrance at Bari laid by U453 (which made three minesweeping sorties off Bari and Brindisi) the previous week. The explosion was abreast the bulkhead between the boiler rooms on the port side, followed by a second explosion shortly after. HEBE capsized within four minutes and sank with the loss of 38 of her crew. Several boats from the 24th and 20th flotillas raced to the scene of the explosion and rescued some of the officers and crew members.

Mention in Despatches: Acting Leading Seaman Todds formed part of a lifesaving party sent away in HMS Sharpshooter's whaler to rescue survivors from HMS HEBE. He saw the Commanding Officer of HMS HEBE unconscious in the water, dived overboard and supported Lt Galvin RN until picked up by a hospital launch 10 minutes later, thereby saving the Commanding Officer's life.

Source: ADM 1/29816


HEBE and Sharpshooter were carrying out a routine magnetic sweep at the entrance to Bari. We had just completed a run and were turning around together - we would turn off the sweeps as we did this. As we completed the turn we turned the power back on to our magnetic sweep. A mine detonated immediately and poor old Hebe was caught up in the explosion.

John Budd, Stoker HMS Sharpshooter


My wife's uncle (Jack Millward (John)) was shipwright on the Hebe and escaped the sinking by stripping off and covering himself in grease so he could get out of the porthole. When in the water he gave his life jacket to the doctor who could not swim but unfortunately he died. Jack died last week at the age of 93, he would have been 94 in February this year.

Source: Richard Peel, Jan 2007


My father, Robert McLoughlin was a Petty Officer on board HMS Hebe. He was a radar mechanic and ship's writer and actually ashore at the time Hebe sank. The date of the sinking was his first wedding anniversary.

I think most of his watch died. He didn't speak much about the events of that day, but did tell a remarkable story. As he was ashore he wasn't listed among the survivors and the worst was feared. By coincidence, his lifelong friend George McFee was in Bari. George was in the Marines and I think a Commander. When he learned of the Hebe's sinking he tried to find my father, but with no luck. George was trying to work out a way of contacting my mother to tell her the bad news when my old man appeared having just heard that the Hebe had gone down. In all the years I knew George, I never heard him swear, but my father said he'd never heard so many swear words in one sentence. George managed to send a telegram, bearing in mind censorship, it read: Wished Bob a happy first anniversary when I saw him on the 24th. Happy anniversary, Margaret from George.
The telegram arrived before the news of the Hebe's sinking and my mum knew my father was okay.

My father died in 2000, and George in 2002, but to the end these two friends did everything together.

Probably not much good to you, but I'm proud of my old man and proud to have been one of George's friends as well.

Bill McLoughlin
28th August 2006