Source: http://freepages.family.rootsweb.com/~treevecwll/airattack.htm

Salvage by HMS SPEEDWELL

They could not go alongside her weather side because the swell was too bad and an added complication was that she had a boat swung out on the lee (port) quarter. Despite the swell Cdr Youngs managed to poke the Speedwell's bow up against the tanker's quarter without too much damage to herself and two of the hands managed to scramble across. These two men lowered the tanker's lifeboat to the waterline to act as a fender when Speedwell got alongside the lee, which was soon accomplished with the aid of the two ratings who secured her wires to the tanker.

The first lieutenant, Percy Stoner, then took a party aboard who proceeded to fight the fire. It was found that the Atheltemplar definitely had water ballast on board so all available hands were set to in both ships to get the fire out with hoses rigged from the Speedwell. The tanker's crew came on board Speedwell but they had no heart for the operation and so Speedwell's crew just turned them in in their messdecks.

After 4½ hours of strenuous work the fire was out and they made preparations to tow. Cdr Youngs decided on a long tow rope made up of Speedwell's two sweep wires which had a combined breaking strain of 30 tons. The prize crew was put on board, the tow passed and off they went but it took an hour to get the tanker round on the course for the Firth of Forth. The main trouble was that when the tanker had been hit she had had five degrees of rudder on, the steering gear was electric, there was no power to work it and so all the time she wanted to go off in a different direction. If she did take charge she pulled them with her and had to be turned right round nearly 360° as she wouldn't go against her rudder. At length Cdr Youngs got the better of her and Neale had a go while Youngs was on the bridge and got the hang of it so Youngs could go below for some food. Any tendency to yaw had to be checked at once before the tanker took charge and parted the tow but they settled down to it and managed to tow her at five knots. Admiral Ramsay sent out an escort of Hurricane fighters to ward off enemy bombers and later a large tug to take over the tow, leaving the Speedwell and the "Hunt" destroyer to act as escorts.

Return and Repair

Just 36 hours after SPEEDWELL had first sighted her, on the morning of 3rd March, with her flag at half mast, the ATHELTEMPLAR arrived at anchorage off Methil. [ Sixteen survivors were landed at Methil for breakfast.] Mr S. Hill, Second Officer of the ATHELSULTAN, bombed off May Island three weeks previously and returned to North Shields for repairs, was instructed to travel up to Methil to bring the ATHELTEMPLAR back to the Tyne. She too was to spend a further period under repair at Smith's Dock having the entire amidship accommodation rebuilt. It was not until June 1941 that the ATHELTEMPLAR sailed and passed once again up the East Coast to resume her sailings across the Atlantic.
Sources
Jack Neale, Sea Breezes - Feb 1989.
Atheltemplar (Athel Line, United Molasses) by Captain Tom Gorst
PRO: ADM199 16 (EN79), ADM199 13 (WN91), ADM199 401
(Aberdeen and Peterhead war diaries of NOIC).
Information from MOD (N), Whitehall, regarding Medal Citations.
Lloyd's records of awards of Lloyd's War Medal for Bravery
at Sea, in Lloyd's Secretarial Department.
PRO: AIR25 250 (WAR DIARY of 14 Group Fighter Command)
WO166 2129 (3rd AA Division war diary)
WO208 (POW interrogation)
Aberdeen City Archives: Register of Air Raids and Alarms for 1941
Register of Casualties CE87/4/41 (Customs & Excise Dispositions of Wrecks)
Scottish Record Office: HH50/160 (Record of Missiles dropped)


<![if !vml]><![endif]>
<![if !vml]><![endif]>

 
Source: Third Supplement to London Gazette of Tuesday 13th May 1941, dated Friday 16th May 1941
www.gazettes-online.co.uk/archiveViewFrameSetup.asp?webType=0&PageDuplicate=n%20%20%20%20%20%20%20&issueNumber=35164&pageNumber=0&SearchFor=&selMedalType=&selHonourType=
-----
<![if !vml]>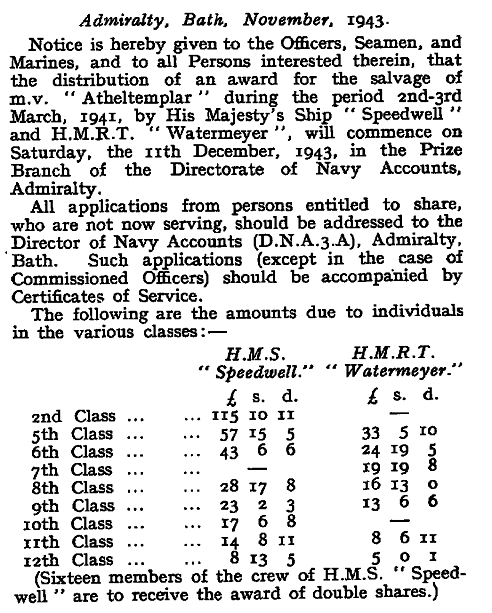 <![endif]>
Source: London Gazette Issue 36282, Dated 10th December 1943
www.gazettes-online.co.uk/archiveViewFrameSetup.asp?webType=0&PageDuplicate=n%20%20%20%20%20%20%20&issueNumber=36282&pageNumber=0&SearchFor=atheltemplar&selMedalType=&selHonourType