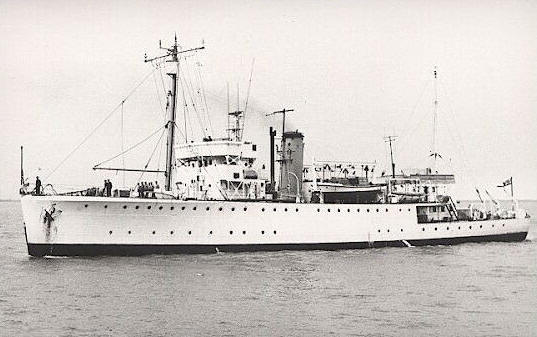 HMS Scott
Soon after his arrival in office as Hydrographer Vice Admiral J A Edgell in 1932, turned his attention to the replacement of the coal‑burning surveying fleet of eight ships with a more modern one built for oil firing and for echo sounding. It was also necessary to consider the employment of the fleet in the war which was even now being seen as an increasingly ominous cloud on the horizon. During 1933 it was agreed that the fleet should remain at the established size of four smaller ships for home waters and four larger ones abroad, but that only four, two at home and two abroad, would be retained on surveying tasks in wartime. It was proposed to replace the four Aberdares by two vessels designed for surveying and two primarily designed as minesweepers.

Both the small surveying ships and the survey minesweeping sloops were built to the same hull design as the Halcyon class minesweepers, of roughly 850 tons, which were entering service from 1934 onward. The small surveying ships, named Franklin and SCOTT after explorers in continuation of the line started by Beaufort and the other Aberdares, had larger bridges than the minesweepers, a chartroom on the upper deck aft, a full outfit of boats and a foremast stepped on the forecastle in place of 'A' gun from which the beaconing derrick was rigged. No provision was made in their fitting out for their conversion to minesweepers.

Sloops were to be designed primarily for minesweeping and simply fitted for their survey role. No armament was to be fitted, though the Survey Minesweeping Sloops were fitted for but not with the standard Halcyon armament of 2 x 4-inch guns and small arms. A large chartroom was built at the after end of the forecastle deck, and the bridge was enlarged to make it more commodious for sextant angle fixing. A large derrick was fitted on the forecastle for handling survey beacons (floating marks like very large dan buoys). The two survey minesweeping sloops, given the traditional small ship names Jason and Gleaner, had a similar fit to Franklin and SCOTT except that their foremast was stepped abaft the bridge like their pure minesweeping sisters, with a stump mast for the derrick on the forecastle which could be readily removed to allow the for'ard four inch gun to be fitted rapidly. In fact all wiring and strengthening was built into these two to allow for their speedy conversion to full minesweeping configuration on the outbreak of war.
Source: EXTRACTS from: Charts and Surveys in Peace and War – The History of the RN Hydrographic Service 1919–1970 by Rear Admiral R O Morris CB
| | | |
| --- | --- | --- |
| 30.8.37 | Caledon Shipbuilding and Engineering Co Ltd, Dundee | Laid down |
| 23.8.38 | | Launched |
| 23.2.39 | | Completed |
| | Ship adopted by Peeblesshire | |
http://www.bbc.co.uk/dna/ww2/A3232379
MY LIFE IN THE ROYAL NAVY

Frederick Potter

I left school in 1936. Work was short at that time and the only choice was between shipbuilding and coalmines. My lifelong friend whose brother was under-manager of a coal mine helped me to get a job in the mines in Silksworth, County Durham. I started there and after six months my friend applied for entry into the Royal Navy.

Three months later he came home on leave and told me it was a good life. So I made up my mind and applied to the Royal Naval recruitment office to sit my General Knowledge test. I was advised that I had passed and two weeks later my career in the Royal Navy had begun. I was sent to HMS Pembroke in Chatham, Kent, along with fifteen other boys. We underwent three months of basic training in discipline, marching and gunnery and then joined a V+W class destroyer, HMS Wanderer, for two weeks of sea training and seamanship. We returned to Chatham as ordinary seamen (2nd Class).

The other boys and I were sent on ten days' leave and returned to Chatham for dispersal to various ships. We assembled in the drill shed and were told by the drafting officer we were going to Dundee in Scotland to join a survey ship, HMS SCOTT, which was being built by Caledon shipbuilders. After builders' trials and sea trials, the ship was commissioned on 23rd February, 1939.

We left Chatham to be fitted with surveying equipment and sailed from there three weeks later to Scapa Flow in the Orkneys, where we witnessed the floating of the last German battleship scuttled in 1918 as part of the German Grand Fleet which was captured there.

After two weeks in Orkney, we sailed for Aberdeen, Montrose, Arbroath and Dundee. While we were staying in Dundee, tragedy happened. HMS Torbay (Thetis?), one of the new subs on trials, sank in Liverpool Bay with great loss of life. Two members of the crew had married Dundee girls. The officer arranged a dance, with all the proceeds going to next of kin. HMS SCOTT was the first ship to hold a dance in the Empress Ballroom...

... Our ship sailed for Dundee from the River Forth, surveying Port Edgar, Rosyth, Granton and Leith, and after completing these surveys we sailed for Berwick, the river Tyne, Sunderland, Hull and then down to Grimsby. I got seven days boiler- cleaning leave, after which we sailed for Dover, arriving on Saturday. War was declared on Sunday.

The ship sailed for Chatham and a number of the crew were discharged to barracks. They wanted volunteers to become asdic (later sonar) operators and I volunteered. I was sent to HMS Osprey for two months' training and qualified as an asdic operator.

Gleaner, Jason and Franklin all started surveying in home waters in the summer and autumn of 1938, to be joined by SCOTT in 1939. Up to the outbreak of war SCOTT was employed on survey work in connection with the proposal to lay a Channel Mine Barrage and, during the first few months of the war, she was employed in directing the minelayers in laying the Barrage.
HMS SCOTT Principal Surveys 1939

A D Day, W C Jenks

J Y G Torlesse

Scotland, East Coast

Orkney Islands

England, East Coast

England, South Coast

Bass and Bell Rocks; River Tay.

Entrances to Scapa Flow.

Harwich; Ramsgate; River Medway

Portsmouth; Plymouth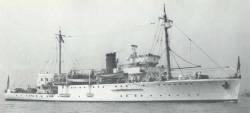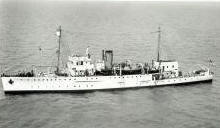 HMS Scott
Date of Arrival

Place

Date of Departure

Orders, Remarks etc

31.8.39

Off Ramsgate

?

31/8 Franklin is to take over from SCOTT at Dover providing the positioning for the laying of the Dover Strait mine barrage.

1.9.39

Dover

22.9.39

21/9 SCOTT is to proceed to Sheerness for conversion to A/S vessel forthwith

22.9.39

Sheerness

18.11.39

26/9 Taken in hand, completes 11/11 approx

2/10 From C in C Nore: SCOTT is due to complete conversion to A/S vessel on 11/11. Request instructions regarding future employment.

3/11 On completion SCOTT is to be sailed for Portland to work up. Subsequently 1st A/S Striking Force Western Approaches.

7/11 Commissioned

SCOTT received a single 3-inch AA gun in a bandstand for'ard of the foremast on the forecastle and a varied fit of small arms. She kept the big chartroom aft, but lost her mainmasts to topweight compensation.

18.11.39

Sheerness

27.11.39

18/11 Returned with gun defect

20/11 From C in C Nore: On passage to Portland leaves Sheerness on satisfactory completion of sea trials a.m. 20/11

21/11 from A S Chatham: SCOTT taken in hand 21/11. Date for completion dependant on result of examination. Work in hand will prevent vessel sailing at 24 hours.

28.11.39

Portland

16.12.39

9/12 From F O i/c Portland: SCOTT will be ready to sail 15/12

18.12.39

Port A

17.1.40

Escorting Baltonia to Scapa then proceeding Clyde

16/1 From C in C Western Approaches: Request you will sail SCOTT for the Clyde as soon as convenient and report number of boiler hours remaining