HMS Speedy
(www.battleships-cruisers.co.uk)
Date of Arrival

Place

Date of Departure

Orders, Remarks etc

15.1.41

Scapa

16.1.41

?

Scapa

6.2.41

?

Aberdeen

15.2.41

17.2.41

Rosyth

18.2.41

20.2.41

Harwich

3.3.41

20/2 SPEEDY shared in the destruction of a German Messerschmitt Bf 110 fighter with BRAMBLE, while operating in the North Sea.

Petty Officer Horace C Littlewood, P/JX.128125, and Leading Seaman Arthur James, P/JX.140273, the trainer and gun layer of the foremost 4" gun in SPEEDY, were responsible for the shot from that gun passing through the enemy machine.

Source: http://www.bbc.co.uk/dna/ww2/A8430798


March, 1941, I was sent with three other CW candidates to do our minimum three months sea time aboard the Fleet minesweeper SPEEDY, a BRAMBLE class ship of some 1200 tons and about 110 of a crew. She had two 4" guns, two 0.5" machine guns, half a dozen depth charges for dropping over the stern, and nothing else. And yet she was sent out as a convoy escort on the Atlantic at a time when none of the escorts had radar and we didn't even have an asdic. We might as well have been blind and deaf. We took slow convoys bound for Newfoundland halfway across, because that was then the limit of U-boat operations, then joined up with an east bound convoy and brought it home. Highlight of this period was a narrow escape, I think in May, '41 when we were steaming west with 106 ships at 6 knots just south of the Denmark Strait, and the BISMARCK came down through the Strait just 50 miles ahead of our bows. We heard about the sinking of the HOOD and RENOWN almost as soon as it happened and spent an anxious day scanning the horizon.

Albert W. Barnes


4.3.41

Harwich

5.3.41

6.3.41

Harwich

8.3.41

9.3.41

Harwich

22.3.41

13/3 Newhaven Harbour Log - Speedy 1256 (Source Peter Mason)

13.3.41
Newhaven
14.3.41
Arrived 1256, sailed 0924 (14th) in company with Bramble, Britomart, Hebe, Niger and Sharpshooter.

(Source Peter Mason)

16.3.41
Newhaven
18.3.41
Arrived 1732, sailed 0644 (18th) in company with Bramble, Hebe, Niger and Seagull.

(Source Peter Mason)

20.3.41
Newhaven
26.3.41
Arrived 1657, sailed 1351 (26th) in company with Bramble, Hebe, Niger, Seagull and Sharpshooter.

(Source Peter Mason)

27.3.41

Harwich

3.4.41

3.4.41

Harwich

7.4.41

10.4.41

Greenock

?

30.4.41

Stornoway

2.5.41

30/4 From C in C W A: SPEEDY is to be sailed to R/V with convoy BB15 (Convoy from Clyde to Bristol Channel] and escort to Milford Haven. SPEEDY is then to proceed to Cardiff to refit

4.5.41

Barry Roads

?

6/5 From F O i/c Cardiff: SPEEDY taken in hand by C H Bailey Ltd, Junction Dry Dock, Cardiff for refit, alterations and additions, completion uncertain.
7/5 From SPEEDY: SPEEDY dry docked and taken in hand for refit 7/5. Present date of completion 27/6 ex trials.
13/7 Completes ex trials.
16/7 From F O i/c Cardiff: Refit of SPEEDY is complete

?

Cardiff

19.7.41

20.7.41

Londonderry

26.7.41

26/7 From C in C W A: Request SPEEDY be sailed to escort rescue tug to Atlantic City and back with tow.
6/7 From C in C W A SPEEDY is to proceed with despatch to join Walker hunting U boat in 55˚35'N 09˚ 36' W

27.7.41

Londonderry

1.8.41

1.9.41

Aberdeen

10.9.41

12.9.41

Belfast

15.9.41

17.9.41

Milford Haven

19.9.41

20.9.41

Belfast

26.9.41

?

Belfast

27.9.41

28.9.41

Liverpool

?

?

Belfast

4.10.41

?

Liverpool

13.10.41

18.10.41

At sea

30.10.41

Bramble, Seagull and SPEEDY formed part of the ocean escort for PQ2 (6 ships) with Gossamer, Hussar and Leda joining from their base in Archangel to provide local eastern escort on 29th and 30th October. The convoy was not attacked.

Source: http://www.bbc.co.uk/dna/ww2/A8430798


We had been operating out of the Clyde and Londonderry, and in the late summer of '41 we were sent to Liverpool and the buzz went round that we were to be sent somewhere mighty cold. Sure enough, steam heating was piped to the for'ard winches, and we were all issued with long johns and sheepskin coats. We sailed for Scapa Flow, and there joined up with PQ2, the second convoy bound for North Russia. It consisted of six merchant ships, and we took them east of Iceland and north by Bear Island and the North Cape to Murmansk.

Albert W. Barnes

?

Kandalaksha

2.11.41

31/10 From SPEEDY: Aground Laplesminothic

Source: http://www.bbc.co.uk/dna/ww2/A8430798

Then instead of returning to the UK, we were stationed at the Russian naval base of Polyarnoe to do some minesweeping duties on the approaches to Murmansk and the White Sea. I was mighty glad to have escaped the job of hauling on ice cold wires, because I had been made quartermaster and spent my duty times on the wheel in the relative comfort of the wheelhouse. Most interesting experience here was a trip across the White Sea and up the Dvina River to a jetty across the river from Archangel, piloted by a Russian woman pilot. We did a boiler clean here and just about froze to death in the cold. With the boilers out of action, the only warm spot in the whole ship was the galley, and not more than half a dozen chaps could get in there at any one time. With my buddy, Bob Stephenson, I made a foray into Archangel. The city was supposed to be out of bounds, but we took a chance, headed downriver till we were out of sight of the ship, then walked across the frozen river to a place called Solambala, where we caught a tram into Archangel. A gloomy city. The buildings in the centre were massive and square, built like forts, and there was so much snow and ice lying about that you couldn't tell whether the streets were paved or not. There was no sign of shops because there were no shop windows, though some of these buildings did, we discovered, contain shops. But they had little stock and were just about as bare internally as externally. The streets were wide, but the whole place had a forbidding look, partly due, no doubt, to the wintry scene.

Quite near the ship was a stockaded Russian village. Why stockaded we never discovered, but there were women sentries on every entrance, armed with rifles. Inside was a haphazard collection of timber houses and one little Johnny a' thing shop. And pervading everything, in Murmansk and Archangel too, was a heavy musky smell which I have come to think of as typically Russian. There was, of course, no communication with the Russians, except in sign language and with the smattering of Russian words that we picked up. But we did meet a fellow in the Fleet Club in Polyarnoe who spoke French and he was the one and only man we were ever able to talk to.

Albert W. Barnes


16.11.41

Murmansk

18.11.42

Gossamer, Hussar and SPEEDY arrived Kola Inlet, sailing again on 18/11

20.11.41

At sea

22.11.41

Bramble, Seagull and SPEEDY met PQ3 (8 ships) on 20th and escorted it into Archangel on the 22nd.

22/11 From Gossamer: SPEEDY sailed for Murmansk 22/11, arriving 24/11

GOSSAMER, HUSSAR and SPEEDY were delayed sailing for minesweeping prior to arrival of PQ3 for 36 hours owing to ice breakers not being provided at the time promised. GOSSAMER and SPEEDY subsequently grounded on the bar as Light Vessel had been removed without their knowledge. If they had known they would have taken pilots.

Source: ADM 199/624

24.11.41

Murmansk

26.11.41

Bramble, SPEEDY and Seagull sailed from Kola Inlet

27.11.41

At sea

28.11.41

Gossamer, Seagull and SPEEDY met PQ4 (8 ships) 27/11 and escorted it into Archangel on 28/11.

28.11.41

Archangel

ADM 199/624 Report of Captain Harvey Crombie Senior Officer 1st MSF, HMS Bramble


Following damage has been sustained by ships due to ice and limitations of ice breaker service:

BRAMBLE: Plates strained aft causing leak into tiller flat

GOSSAMER: A/S 60% out of action

SPEEDY: A/S 100% out of action and chipped propellers.

SEAGULL: Extension of damage to fore peak; original damage was sustained in very bad weather on passage from United Kingdom.

All ships sides show signs of slight corrugation and all ships have suffered from choked condenser inlets continually.

The long sea time put in by all ships in bad weather, long hours of darkness, and difficult navigation, throws a considerable strain on Commanding Officers, especially with the limited experience of the majority of their officers. It is necessary if the ships are to continue to operate efficiently that Commanding Officers should have adequate rest on return to harbour.

This they will not get if they are to be concerned with possible damage to their ships, failure to fuel, and doubts as to being ready for sea when required. Every one of my commanding officers has said that they would rather be at sea continually than return to the uncertainties, troubles and worries of Archangel.

Source: http://www.bbc.co.uk/dna/ww2/A8430798

After two weeks of boiler cleaning we were at last able to get up steam again, but we had to have an ice-breaker to clear a way for us from the jetty and down the river. The ice must have been more than a foot thick then. But we had the luck to take aboard a British Admiral ( I think Bevan was his name) who required passage across the White Sea and up a Lapland river to a little place where he could catch a train on the Murmansk-Moscow railway. That was a wonder trip, especially up the Lapland river, breaking our way through 4 or 5 inches of ice and tossing bars of chocolate to young Laplanders who skated alongside the ship. (Chocolate and cigarettes were our Russian currency. We could swap them for all the roubles we needed.)

Albert W. Barnes

17.12.41


While on their way to meet PQ6 (8 ships), Hazard (Lt Cdr J R A Seymour) and SPEEDY

were attacked by four German destroyers that had been sent out to find PQ6 (Z23, Z24, Z25, Z27) and were laying mines (vicinity 68º 12' N, 41º 00' E). This was the German's first attempt to intercept a convoy. SPEEDY was almost immediately straddled and she managed to fire only one round from her forward 4in gun before its elevating gear was wrecked by a direct hit. The two minesweepers turned and made off, but not before SPEEDY had been hit by three more 5.9in shells which seriously damaged the after 4in and shot away the foremast. The Germans mistook the British ships for much larger Soviet destroyers and did not press home their attack. Although the Germans fired star shell the minesweepers managed to escape in the gloom under a smoke-screen. SPEEDY was replaced by HMS Leda.

SPEEDY suffered some superficial damage, lost her topmast and had both 4" guns put out of action, but remarkably there were only two casualties, one of whom died of wounds in hospital on 18th December...

20/12 From SO 1st MSF: Vessel (SPEEDY) damaged in action. Half of mast shot away, anti submarine equipment out of action and propeller chipped. Needs docking and survey.

Leading Seaman Roy Creek P/JX 136996 age 24 was the member of the crew killed during this action.


Source: http://www.bbc.co.uk/dna/ww2/A8430798

Back to our minesweeping duties, we ran into trouble one dark afternoon in the Arctic smoke, the latter a bank of heavy mist caused by the Gulf Stream waters meeting the icy Arctic air. It lies on the surface, less than mast height, and perhaps it was because our mast stuck up through it that disaster hit us. I was playing chess down below when there was a helluva bang and all the lights went out. Action Stations sounded, and we scrambled up on deck to find an awful shambles of wrecked and twisted gear, and the after gun lying at a drunken angle. There was another bang and we were hit again up for'ard, and the motor boat went on fire. By this time we were making smoke and zigzagging inshore at full speed, and somehow we got away. We discovered later that we had either been sighted or pinpointed on radar by a couple of German destroyers. Their shooting was mighty accurate. Their first salvo from their 5.5's knocked out our after gun, and the second salvo jammed the for'ard gun, besides doing a lot of superficial damage. We had one leading seaman killed and several men injured, but were mighty lucky to get off so lightly. The whole ship's company marched to the dead man's funeral at Polyarnoe, where he was buried in a bare and outlandish cemetery outside the town on a snowy hillside. We had to wait for him outside the base mortuary, and he hadn't even been coffined when we arrived. I remember all of us lined up there in our sheepskin coats and balaclavas staring gloomily at his bare feet visible just inside the doorway. I remember also being startled to learn that his Christian name was Roy. I had never before heard him called anything but Shits.

Albert W. Barnes

Source: http://www.bbc.co.uk/dna/ww2/A8430798

A week or two after that we were ordered home for repairs, but on the way to join the convoy ran into the father and mother of all Arctic storms. We lay hove to in Iokanka Bay for four days, with both anchors down and engines running half ahead the whole time. SPEEDY was a bitch of a weather boat, with no keel and a bottom flat as a billiard's table. ( I know because I saw her in dry dock in Cardiff in the summer.) It required tremendous concentration to hold her head to the wind, and after every four hour trick on the wheel I was exhausted. The ship's coxswain stood by the whole time and gave me a ten minute break every hour and an extra tot of rum at the end of the watch. By heavens, I needed it. Fortunately the convoy was held up too, and we sailed for Scapa in the end, and from there to the Thames where I left the ship for good. Long afterwards I heard that SPEEDY's next duty was on the Malta convoys, and I was glad to have escaped that. She was a gallant little ship, and she took a tremendous battering, I believe.

Albert W. Barnes

29.12.41


Leda, SPEEDY and Seagull formed part of Ocean escort for QP4 (13 ships), with Bramble and Hebe acting as local eastern escort. The convoy was lead out by two huge new Russian ice-breakers and eventually reached the open sea beyond the Gourlo. The convoy dispersed on 9/1, no enemy activity.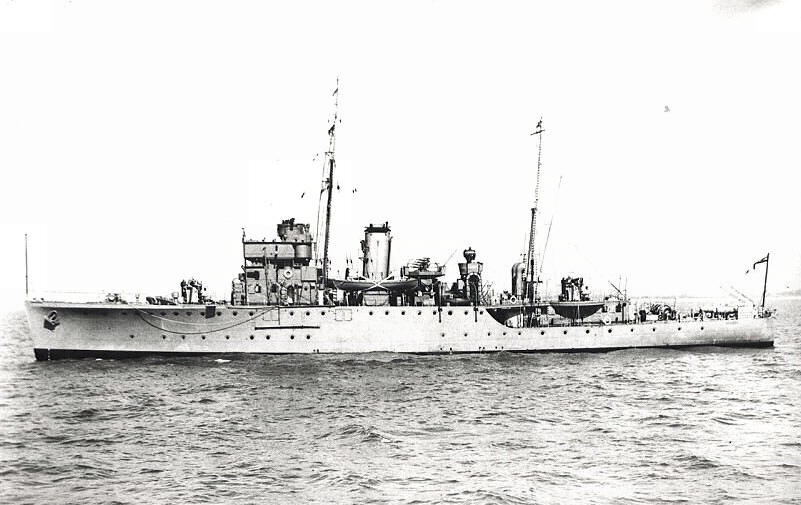 HMS Speedy