<![if !vml]>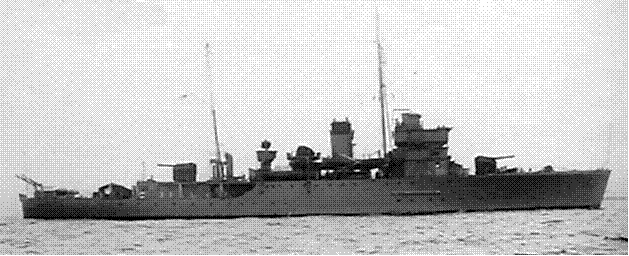 <![endif]>
HMS BRAMBLE:
Photo Source: ADM 176/873
Date of Arrival

Place

Date of Departure

Orders, Remarks etc

11.1.41

Aberdeen

19.1.41

Taken in hand 11/1 for repairs, boiler cleaning, fitting gyro compass etc. Completes 18/1

19.1.41

Scapa

?

8.2.41

Scapa

13.2.41

1st MSF (including BRAMBLE, Britomart, Hebe and Sharpshooter) ordered to Harwich to sweep along the south coast to Portsmouth.

17.2.41

Port Edgar

18.2.41

20.2.41

BRAMBLE attacked off Harwich by aircraft and hit by bomb.
(Source: ADM 267/102)

Report of Captain M H Evelegh, HMS BRAMBLE, SO 1st MSF

CONFIDENTIAL

SENIOR OFFICER, FIRST MINESWEEPING FLOTILLA
H.M.S. BRAMBLE

29th February 1941

Sir,

I have the honour to report the following facts which led up to the destruction of one German aircraft about 1300 on Thursday 20th February 1941.

2. The 1st Minesweeping Flotilla, consisting of H.M. Ships BRAMBLE, SPEEDY, SEAGULL, SHARPSHOOTER and BRITOMART were approaching Harwich along Q.Z.S.202 about 1100 when aircraft were heard overhead above the low lying clouds. The signal was hoisted to indicate "Hostile Aircraft in sight" and action stations closed up. Fire was opened by the flotilla shortly afterwards when a German machine appeared on the port bow through the clouds and some bursts were observed; the flotilla had previously ordered to use fuze 012 on the previous day owing to the existing visibility. This was believed to be a Heinkel 111K. Shortly afterwards another, or the same, machine, appeared on the starboard bow and fire was again opened but again without result. Cruising stations were reverted to about 1200.

3. About 1255, just after the flotilla had altered course to 315° along Q.Z.F. 28, two machines were sighted close to the water bearing about Red 60° from BRAMBLE, at a range of about 4,000 yards steering directly for the ship. The alarm bell was rung and action stations were closed up. The machines came direct at BRAMBLE at a level of about the upper deck, opening fire with machine guns and, it is believed, 0.5" guns, when about 600 yards away; the wings of the two machines were practically touching as they approached at a high speed and the ship was plastered on the port side. Fire with the 4.0" guns in BRAMBLE was not opened and the 0.5" gun, already closed up, withheld fire until they thought the machines were 400 yards away and then opened up. It is believed that fire was actually opened at about 800 yards. Several portions of one machine were seen to drop off on her approach and this machine finally dived into the sea and sank on the starboard quarter of BRAMBLE.

4. Two bombs were dropped clear of the ship on the approach course without doing damage and a third dropped close to the port side of BRAMBLE, entering the ship's side through the ship's Office and finally coming to rest in the after end of the cabin flat without exploding. This was a 250 kg bomb and the machines were Messerschmitts 110. The mainmast was cut off about halfway up by one of the enemy machines and in consequence the W/T aerials were lost.

5. All hands behaved extremely well during their first tests if aircraft attack and this behaviour was particularly noticeable in the way they worked after the attack was over in the placing of the collision mat over the hole and general temporary repair work, cutting away main rigging, setting up jury W/T aerials, etc.

6. SPEEDY, who was next astern of BRAMBLE also claimed to have damaged the machine and, in order to settle any doubt, an enquiry was ordered to be held by me, which found that one 4" shell from SPEEDY's foremost 4" gun undoubtedly passed through the fuselage of the machine and subsequently exploded on the far side. It is very much regretted that this fact was not known, when the original signal was made by SEAGULL.

7. I would like to mention particularly the names of Able Seaman James T Beale, D/JX.144283 and Able Seaman Kenneth H Bell, D/SSX.19019, who formed the 0.5" gun's crew in BRAMBLE. Their tenacity, coolness, courage and judgement were extremely good and I consider that these two ratings were chiefly responsible for the final destruction of one enemy machine and the possible 'winging' of the other, in spite of their gun shield being pierced by enemy machine gun bullets in three places. Also I would like to bring to your notice the names of Petty Officer Horace C Littlewood, P/JX.128125, and Leading Seaman Arthur James, P/JX.140273, the trainer and gun layer of the foremost 4" gun in SPEEDY, who were responsible for the shot from that gun passing through the enemy machine.

I have the honour to be, Sir,

Your obedient servant

(SGD.) M.H.EVELEGH, CAPTAIN, Royal Navy

__________________________________

From Rear Admiral, Flag Officer in charge Harwich:

I fully concur with recommendation of the ratings for "Immediate" awards. The behaviour and training of the ship's company reflect great credit on the Commanding Officer, Captain M. H. Evelegh, who should also, I submit, be recognised.

I inspected H.M.S. BRAMBLE on arrival. Her plating was riddled with bullets and the Commanding Officer himself received a slight wound on the face from a graze or splinter.

'My mate and I opened up our guns, the planes came at us again. They put a line of bullet holes from bow to stern. They dropped three bombs which went off one each side of Bramble, one skimmed off the water and went into the side of Bramble, but never exploded'.

'We still kept firing our guns and brought down one of the planes. My mate and I got a special mention in despatches from our action, we carried the unexploded bomb wedged in our side to Harwich where it was defused. Bramble and the crew were very lucky that day'.

Source: Kenneth 'Daisy' Bell. Letter to Dave Griffiths in 'Passages from the Past'.
'Off the East coast of England they were attacked by a Me110 which dropped one single bomb which ricocheted off the water and entered Bramble just above the water line. Fortunately for all concerned it did not explode! Having informed FOC Harwich what had happened he signalled back saying do not enter harbour we will come to you!! He sent out an army bomb disposal unit who defused the bomb and removed it.'

Source: Rodbourn http://www.bbc.co.uk/dna/ww2/U597628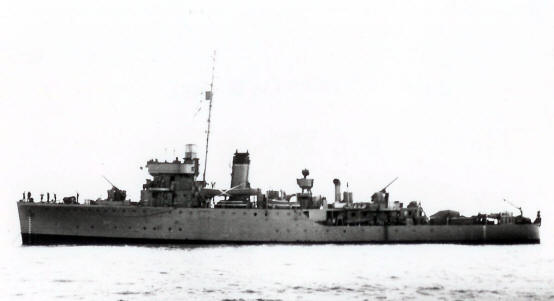 HMS BRAMBLE 1941
Source: IWM A6338
Date of Arrival

Place

Date of Departure

Orders, Remarks etc

20.2.41

Harwich

1.3.41

From Flag Officer in charge Harwich:-

BRAMBLE now berthed alongside Parkeston Key, bomb has been removed, disposed of. Ship holed port side aft on waterline, size about 3 ft by 2 ft, mainmast broken about half way up. Ship can steam but will require docking after passage repairs. No casualties. Two German twin engined aircraft attacked ship simultaneously at deck levels with machine guns dropping two bombs, one in sea, the other on board unexploded. One aircraft shot down into sea exploding under water. For N Woolwich .

From FO i/c Harwich 25/2: Permanent repairs to BRAMBLE will be completed 27/2 but some inconvenience and discomfort must be accepted until repairs and renewals of office and cabin furniture and fittings have been made. Provided examination by diver of port shaft discloses no defect, ship will not require docking.

25/2 From C in C Nore:- Request arrangements may be made for BRAMBLE to be fitted with S.A. Gear on next occasion of boiler cleaning at Harwich about 6 – 11/3.

28/2 From FO i/c Harwich – Intend sailing BRAMBLE 1/3 to Woolwich for docking that day at Harland & Wolff.

1.3.41

London

6.3.41

3/3 From MS1: Completes boiler cleaning. Sails to rejoin FM37 6/3.

6.3.41

Harwich

?

13.3.41
Newhaven
14.3.41
Arrived 0952, Sailed 0935 (14th)

In company with Britomart, Hebe, Niger, Sharpshooter and Speedy (Source Peter Mason)

16.3.41
Newhaven
18.3.41
Arrived 1648, sailed 1443 (18th)

In company with Hebe, Niger, Seagull and Speedy

(Source Peter Mason)

17.3.41
Sidney May, Stoker 1st Class died age 24
20.3.41
Newhaven
21.3.41
Arrived 1603

in company with Hebe, Niger, Seagull and Speedy. Sailed 1324 (21st) in company with Niger, Seagull and Sharpshooter

(Source Peter Mason)

?

Portsmouth

22.3.41

25.3.41
Newhaven
26.3.41
Arrived 1522 i

n company with Hebe, Niger, Seagull, and Sharpshooter. Sailed 1443 (26th) in company with Hebe, Niger, Seagull, Sharpshooter and Speedy

(Source Peter Mason)


'After temporary repairs in Harwich Bramble proceeded to the English channel where they spent some considerable time sweeping up the German minefield. Whilst doing this they picked up a pilot who had bailed out of his stricken aircraft. We all thought it was a German but much to our horror when we picked him out of the water, by which time he was dead, he was an English fighter pilot. We wrapped his body in a white ensign and laid it out on deck and proceeded at full speed to Newhaven and handed the body to the local authorities and Bramble proceeded out to sea again to continue sweeping mines.'

Source:Rodbourn http://www.bbc.co.uk/dna/ww2/U597628

27.3.41

Harwich

7.4.41

10.4.41

Clyde

?

Taken in hand for cleaning and minor repairs. Completes 15/4
17/4 BRAMBLE completed and proceeded down river to Greenock.
22/4 BRAMBLE can be taken in hand for refit by Middle Docks, South Shields in first week of May. Docking cannot be arranged until 12/5.
Following the loss or damage of so many escorts at Dunkirk it was decided to bring the Halcyons into the Western Approaches Command to act as local escorts at the UK end of the convoy routes. They were ideally suited to this role of escorts, being fitted with both Asdic and more recently with the new Radar (271 sets). BRAMBLE, Britomart, Hazard and Hebe were based at Stornoway although their activities took then to several other ports including Oban, Inverary, Aultbea, Londonderry, the Clyde and Iceland. Normal minesweeping duties were carried out when not required as escorts, although they were ready at immediate notice to be sent off for patrol or escort duties.

'As the Battle of the Atlantic was so critical and going badly for us, the Admiralty decided that even an 800-ton mine sweeper would be of some help guarding convoys across the Atlantic. The first and sixth mine sweeping flotillas were combined under Captain Crombie and proceeded to Stornoway in the Outer Hebrides. At this time Bramble was a pure fleet sweeper with a four inch gun and sweeping equipment, so not much good for attacking submarines but at least their presences meant something if only to collect survivors from merchant ships.

As quickly as possible the ships in the combined flotillas, approximately 16, were all taken into dock yards to be fitted with anti submarine equipment and depth charges. this took months. Going out into the Atlantic in a sweeper of 900 tons and a very shallow draft was not much fun. We were thrown about like a corkscrew on a regular basis, we were lucky it stayed afloat, it was not designed for this.'
Source:Rodbourn http://www.bbc.co.uk/dna/ww2/U597628
Date of Arrival

Place

Date of Departure

Orders, Remarks etc

30.4.41

Stornoway

8.5.41

7/5 From 1st MSF: Intend sailing BRAMBLE, Seagull and Sharpshooter for boiler cleaning at Aberdeen 8/5, leaving there 14/5.

8/5 BRAMBLE can be taken in hand for refit when available at Bailey's Cardiff.

9.5.41

Aberdeen

14.5.41

9/5 M/S1 arrived (at Aberdeen) in HMS Bramble, also HMS Sharpshooter and HMS Seagull

1300 14/5 HMS Bramble, HMS Seagull, HMS Sharpshooter and HMS Hebe sailed in company .(War Diary, Aberdeen)

16.5.41

Greenock

17.5.41

?

Aultbea

22.5.41

?

Stornoway

30.5.41

31/5 BRAMBLE can be taken in hand for refit at Bailey's Cardiff

7.6.41

Stornoway

11.6.41

10/6 Intend sailing BRAMBLE for refit 1600 11/6

13.6.41

Cardiff

27.9.41

13/6 From N O i/c Cardiff: BRAMBLE taken in hand by C H Bailey Ltd, Junction Dry Dock, Cardiff , completes 21/7

28/6 Date of completion now anticipated 1/9

11/8 Completes 21/9 ex trials

15/9 Completion date under review

28.9.41

Belfast

4.10.41

To arrive Scapa 5/10

5.10.41

Scapa

?


'Suddenly out of the blue Captain Crombie was called to the Admiralty in London, September 1941, and when he came back to the ship after about seven days, he divulged to me that we were going to Russia (As his writer it was not unusual for him to speak about such matters to me (Rodbourn) - it was part of my job to know) to make a survey of the conditions at the approaches to Murmansk and Archangel and we reported back to the Admiralty the ice conditions and the lack of navigational aids (landmarks) in North Russia and he realised that it was going to be no fun sweeping channels for the merchant ships to get to the docking areas in the White Sea to get to Archangel. '

Source: Rodbourn http://www.bbc.co.uk/dna/ww2/U597628

?

Portland

9.10.41

9.10.41

Portsmouth

?
The decision was made to send both Flotillas (1st and 6th) of Halcyons to Russia, leaving when available as part of the escort for the convoys due to start in August. Once there they were to act as the minesweeping force to keep the entrances to Archangel and Murmansk free of mines, and in addition to act as local escorts for convoys arriving or departing.
Date of Arrival

Place

Date of Departure

Orders, Remarks etc

30.10.41

Archangel

?

BRAMBLE, Seagull and Speedy formed part of the ocean escort for PQ2 (6 ships), with Gossamer, Hussar and Leda joining from their base in Archangel to provide local eastern escort on 29th and 30th October. The convoy was not attacked.






'Ginger' and 'Minnie', the ship's cats

'Hello Russia' I said our first time out to Russia. There was no heating, port holes were frozen up, we fired our guns and split one of the barrels, we had to have heaters fitted to them. The rest of the trip was just routine, trying to keep warm with the extra two shipmates on board. Bramble's cats, quite funny really but nice to smooth.



Ken Bell & Frank Walsh

Source: Kenneth 'Daisy' Bell. Letter to Dave Griffiths in 'Passages from the Past'.

3.11.41

At sea

BRAMBLE, Leda and Seagull local eastern escorts for QP2 (12 ships) from Archangel until 5/11. No enemy activity.

20.11.41

At sea

22.11.41

BRAMBLE, Seagull and Speedy met PQ3 (8 ships) on 20th and escorted it into Archangel on the 22nd.

22.11.41

Archangel

26.11.41

BRAMBLE, Speedy and Seagull sailed from Kola Inlet

28.11.41

Archangel

?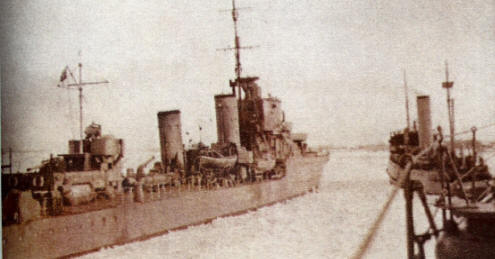 HMS Eclipse and an icebreaker photographed from HMS Bramble.
All three were trapped in ice while entering the River Dvina from the White Sea in November 1941
Source: ADM 199/624 Extract from Report of Captain Harvey Crombie Senior Officer 1st MSF, HMS BRAMBLE
BRAMBLE and SEAGULL waited six days for oil at Ekonomia, I being promised daily. Two days before ships were due to sail SEAGULL filled up from LEDA and oil for BRAMBLE was personally assured by Chief of Staff for the following day. Oil eventually arrived with the ice breaker that was to take BRAMBLE and SEAGULL out of harbour and I was given the choice of oil or proceeding to sea. If the latter choice was taken, oil was available at Molotovsk where there was stated to be no ice. I decided since the icebreaker was available to proceed down harbour.

LENIN broke BRAMBLE and SEAGULL out of the ice and they followed astern of her down river without trouble till arrival in the sea reaches, where they both stuck. LENIN then towed BRAMBLE to roadstead and returned for SEAGULL. Ships left Ekonomia at 0900, and SEAGULL was not clear of ice until 1545.

BRAMBLE proceeded to Molotovsk and stuck in thick ice six miles from shore. She was towed clear by Russian collier who stated that ice was very thick ahead. An American Naval Attaché, two Russian pilots and an interpreter were transferred to the Russian collier, and it has since transpired that they had to remain for five days.

Following damage has been sustained by ships due to ice and limitations of ice breaker service:

BRAMBLE: Plates strained aft causing leak into tiller flat

GOSSAMER: A/S 60% out of action

SPEEDY: A/S 100% out of action and chipped propellers

SEAGULL: Extension of damage to fore peak; original damage was sustained in very bad weather on passage from United Kingdom.

All ships sides show signs of slight corrugation and all ships have suffered from choked condenser inlets continually.

The long sea time put in by all ships in bad weather, long hours of darkness, and difficult navigation, throws a considerable strain on Commanding Officers, especially with the limited experience of the majority of their officers. It is necessary if the ships are to continue to operate efficiently that Commanding Officers should have adequate rest on return to harbour.

This they will not get if they are to be concerned with possible damage to their ships, failure to fuel, and doubts as to being ready for sea when required. Every one of my commanding officers has said that they would rather be at sea continually than return to the uncertainties, troubles and worries of Archangel.
| | | | |
| --- | --- | --- | --- |
| Date of Arrival | Place | Date of Departure | Orders, Remarks etc |
| 7.12.41 | At sea | 13.12.41 | On 7/12 BRAMBLE and Seagull joined PQ5 as local eastern escort, allowing Hazard and Hebe to detach to Murmansk with the cruiser Sheffield arriving 8/12. The convoy arrived at Archangel 13/12. There was no enemy activity. |
| 13.12.41 | Murmansk | 1.1.43 | 29/12 - 5/1 Local escort to QP4 leaving Archangel, with Hebe she escorted two of Convoy QP4's ships, SAN AMBROSIO and EULIMA, from Archangel to Murmansk. |
| 29.12.41 | At sea | ? | BRAMBLE and Hebe acted as local eastern escort to QP4. No enemy activity. |