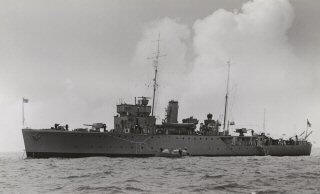 HMS Salamander
(www.battleships-cruisers.co.uk)
Date of Arrival

Place

Date of Departure

Orders, Remarks etc

4.1.41

Harwich

7.1.41

8.1.41

Harwich

10.1.41

11/1 from F O Humber: SALAMANDER standing by Norwegian Steamer ROY whose engines are broken down and now anchored ˝ mile SW of 5q buoy

12.1.41

Harwich

14.3.41

17/1 from F O i/c Harwich: Request information whether SALAMANDER now boiler cleaning at Grimsby can be taken in hand for docking and refit at that port.

20/1 from Grimsby Base: SALAMANDER taken in hand refit by J S Dory Ltd Grimsby, provisional date of completion 10/2

24/1 It is approved for refit to be extended to 6 weeks and other items taken in hand

28/2 Approved to complete all items and extend refit to 10/3

16.3.41

Scapa

5.4.41

Joined 6th MSF (with 1st MSF at Scapa)

6.4.41

Aberdeen

7.4.41

8.4.41

Scapa

9.4.41

10.4.41

Greenock

14.4.40

Between 14 April and 9 July SALAMANDER performed convoy escort duties on the North Atlantic run in W. Approaches Command, escorting Convoys OB310, OB322, HX125, OB331, SC33, OB340 and SC35/HX134.

Ruegg

The following report on damage and subsequent temporary repairs to Fore Peak is submitted.

The original damage was caused by heavy weather whilst on Escort Duties in the Atlantic during April 1941, when Nos. 3, 4 and 5 frames were buckled and commenced to split at the buckle.

This caused flooding of compartment by reason of the working of ships side plating in region of stem.

Source: ADM199/264

18.4.41

Iceland

?

26/4 from SO 6th MSF: Propose sailing SALAMANDER Aberdeen for boiler cleaning 27/4

?

Stornoway

28.4.41

29.4.41

Aberdeen

6.5.41

Temporary repairs were made at Aberdeen in May, when 4" of cement was placed fore and aft along the bottom, and angle irons welded transversely across the frames. A report of this was made to Admiralty by ERO Aberdeen on 1st July.

Source: ADM199/264

?

Stornoway

14.5.41

24.5.41

Aultbea

25.5.41

Escorting Caledonian Monarch

?

Belfast

28.5.41

29.5.41

Stornoway

30.5.41

30.5.41

Scapa

30.5.41

31.5.41

Aberdeen

6.6.41

12.6.41

Iceland

12.6.41

19.6.41

Stornoway

27.6.41

?

Oban

28.6.41

9.7.41

Aberdeen

23.7.41

Taken in hand Aberdeen 15/7 completes 23/7

This (temporary repair) proved satisfactory until July when SA Gear Type A was fitted.

Slow leakage was experienced after this until the end of September, when moderate weather was experienced on two occasions and compartment began to flood at a rate of 4 feet per 24 hours.

Source: ADM199/264

23/7 HMS Niger and HMS Salamander sailed having completed a very urgent refit. A signal was received from the Admiralty expressing appreciation for the celerity with which the work had been carried out. (Source: War Diary, Aberdeen)

23.7.41

Scapa

28.7.41

28/7 from C in C Home Fleet: Request R A (D) H F sail Halcyon and SALAMANDER for Seidisfiord, Iceland when ready. Their object is to provide Anti/Submarine protection for the anchorage and the SO (SALAMANDER) is to carry out the duties of Senior Naval Officer at Seidisfiord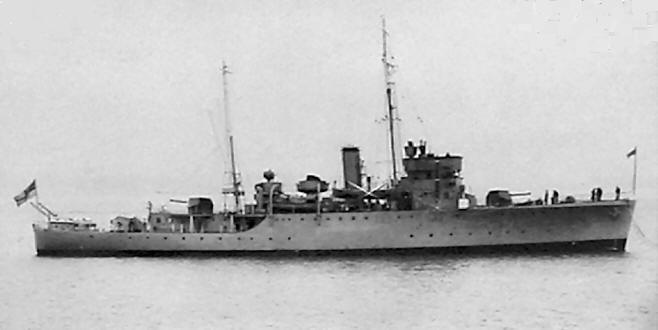 SALAMANDER then reverted to minesweeping duties with NIGER, HARRIER and HALCYON, picking up her Oropesa sweep at Stornoway and her LL sweep at Aberdeen. She then spent most of August providing A/S protection for the port of Seidisfjord in Iceland. In the middle of the month she and HALCYON escorted the RFA tanker BLACK RANGER to Hvalfjord, another Icelandic port.

Ruegg

30.7.41

Seidisfiord

12.8.41

19.8.41

Iceland

?

SALAMANDER can be taken in hand by Messrs Hall & Russell 19/10

20.8.41

At sea

31.8.41

Halcyon, Harrier and SALAMANDER provided part of the ocean escort for Operation Dervish, the first convoy to North Russia, arriving Archangel 31/8 without being attacked.

They sailed to the White Sea to conduct mine searching operations at its entrance in preparation for future Arctic convoys.

We provided escort for the passage to Arkhangel, where we arrived on 31st August. Unlike many of the later PQ convoys, "Dervish" proved to be an uneventful trip for us. As a Chief Stoker I was in charge of all the other junior Stokers on the ship.

Something that I do remember well from that trip is that "Salamander" was refuelled at sea. As I recall we took on about 50 tons of fuel oil. Being in charge of everything to do with oil and water in the ship, I was responsible for the "Salamander" end of the refuelling operation. All went smoothly from above decks.

24.9.41

26.9.41


MINESWEEPING OPERATION OF SEPT 24TH – 27TH

Preparatory to the arrival of HMS LONDON

1. Report of the proceedings of HM Ships Harrier, SALAMANDER and Halcyon is submitted herewith.

2. The three sweepers sailed p.m. 24th; on 25th searched QZF38 and then north to Cape Gorodetski with Oropesa and SA. Sweeping was abandoned p.m. owing to strong northerly winds. Ships anchored south of Veshnyak for the night. As stated in the sailing directions, this is an uncomfortable anchorage owing to strong tides.

3. On Sept 26th a high percentage search of QZF 38 was carried out with LL and SA. On completion ships returned to the North Dvina Lightship, arriving a.m. Sept 27th.

Source ADM 199/264 Report of Proceedings

28.9.41

At sea

2.10.41

Local eastern escort from Archangel for QP1 (14 ships) with Halcyon and SALAMANDER until 30/9. No enemy activity.

4. The three sweepers formed part of the escort of convoy QP1, parting company at 1300 on Sept 30th. I (Captain HMS HARRIER) had intended to carry out a further search of Gorodetski – QZF 38 area before the return of HMS London but, owing to the bad visibility, only an acoustic search was possible. Ships returned to Archangel a.m. Oct 2nd.

Source ADM 199/264 Report of Proceedings

3.10.41

DEPARTURE OF THE ANGLO-AMERICAN MISSION

5. HMS London arrived p.m. October 3rd. SALAMANDER and HALCYON were sent to the North Dvina Lightship to provide A/S protection, while HARRIER remained at Archangel as W/T link and to take the mission down river on Oct 4th.

Source ADM 199/264 Report of Proceedings

7.10.41

Archangel

10.10.41


SALAMANDER discovered considerable damage to the forepeak and came alongside HARRIER a.m. Oct 7th (which was also alongside the Russian floating workshop). Repairs were completed by the evening of October 10th, the workmanship being excellent. The boom for the Type A, SA gear had to be removed, so this was presented to the Russians as a pattern.


From: Commanding Officer HMS Salamander

Date: 12th October 1941

To: Commanding Officer HMS Harrier (Copy to Admiralty)

The following report on damage and subsequent temporary repairs to Fore Peak is submitted.

The original damage was caused by heavy weather whilst on Escort Duties in the Atlantic during April 1941, when Nos. 3, 4 and 5 frames were buckled and commenced to split at the buckle.

This caused flooding of compartment by reason of the working of ships side plating in region of stem.

Temporary repairs were made at Aberdeen in May, when 4" of cement was placed fore and aft along the bottom, and angle irons welded transversely across the frames. A report of this was made to Admiralty by ERO Aberdeen on 1st July.

This proved satisfactory until July when SA Gear Type A was fitted.

Slow leakage was experienced after this until the end of September, when moderate weather was experienced on two occasions and compartment began to flood at a rate of 4 feet per 24 hours.

Detailed examination of Fore Peak then revealed that the transverse angle irons had broken away from the ship's side at the welding. Nos. 3, 4 and 5 frames had split completely through vertically and No 7 frame had buckled.

Temporary repairs were again carried out, this time at the Naval Yard, Archangel, on 7th - 11th October. Frames were jacked into position and welded together, heavier angle irons being welded across to support them.

It is considered that the additional weight of the SA Gear right forward, and the resulting stresses placed on the Fore part of the ship, particularly when the gear is being operated, has been the cause of the trouble.

HMS SALAMANDER is the only ship of the three in company fitted with Type A gear, and it has been frequently observed even when boom is hoisted that when proceeding into head seas the bows do not rise as in the case of HARRIER and HALCYON, water being shipped forward when the other ships remain dry.

W A Cooke
Lt Commander
Commanding Officer

Source ADM 199/624 Report of Proceedings

14.10.41


HM Ships HARRIER, SALAMANDER, BRITOMART and HALCYON sailed from Archangel p.m. Oct 14th, with orders to return to Scapa via Seidisfiord. SALAMANDER had only temporary repairs to her forepeak and was compelled to reduce speed in any head sea; HALCYON could only steam 11 knots owing to a distorted tail shaft: BRITOMART has no A/S: HARRIER's Type 271 was out of action owing to lack of spares.

Soon after sailing, orders were received from the Commander in Chief, Home Fleet to search Brentsburg and Longyearby for possible enemy occupation. It was obvious that SALAMANDER and HALCYON would be unable to make the extra distance so at noon on October 18th HARRIER and BRITOMART parted company and increased to 13 knots to make landfall at Spitzbergen before (?) on October 18th…

… Throughout the work in Russian waters Lt Commander W A Cooke of HMS SALAMANDER and Acting Lt Commander H Harding RNR maintained a high standard of efficiency under arduous and exacting conditions. I received great assistance from the work of Lt J D D Moore, the flotilla navigating officer.

J M Bayley
Commander HMS HARRIER

Source ADM 199/264 Report of Proceedings

22.10.41

Seidisfiord

23.10.41

28.10.41

Scapa

29.10.41

?

Aberdeen

16.12.41

1/11 from F O i/c Aberdeen: SALAMANDER has been taken in hand by Hall Russell & Co Ltd, Aberdeen for repairs. Anticipated D/C 13/12

SALAMANDER was then 'arcticised', and she knew she would therefore be returning to N. Russia. The work (lagging, provision of ice‑chipping tools and of more high pressure hoses) was carried out at Aberdeen.

Ruegg

Scapa

On returning to Scapa SALAMANDER and BRITOMART were detailed as part of the escort for Convoy PQ7 and they sailed to Seidisfiord

21.12.41

Seidisfiord

?

SALAMANDER and Britomart were to rendezvous on 2/1 with the two ships of PQ7A which left Hvalfjord on 26/12. The convoy encountered bad weather and the rendezvous was not made, the ships proceeding independently. One merchantman was torpedoed and sunk, the other reached Murmansk 12/1.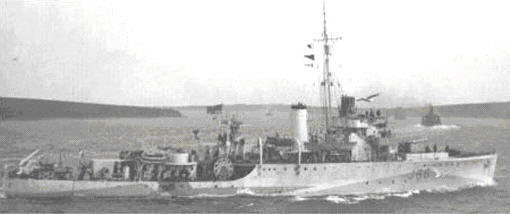 HMS Salamander