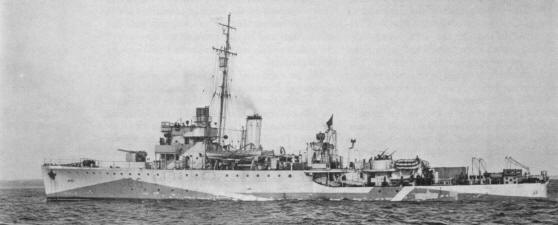 HMS Salamander 1943
Date of Arrival

Place

Date of Departure

Orders, Remarks etc

6.1.43

Petty Officer Telegraphist Victor Arthur Newey DSM, D/JX 130499 aged 31 from Grimsby, died.

21.2.43

Scapa

?

With engine defects

22.2.43

Aberdeen

3.3.43

1/3 Taken in hand 23/2 Aberdeen, engine repairs. Completes 1/3 ex trials

11.3.43

Scapa

26.3.43

28.3.43

Milford Haven

28.3.43

29.3.43

Plymouth

?

Allocated to the 1st M/S Flotilla, her first task when fully recovered was to escort two flotillas of tank landing craft (LCT) from Plymouth to Gibraltar between 2 and 12 April 1943.

Ruegg

12.4.43

Gibraltar

17.4.43

Rectifying defects

?

Gibraltar

19.4.43

MED – Africa Star + Rosette

20.4.43

Gibraltar

20.4.43

?

Gibraltar

21.4.43

After rectifying some defects at Gib. she overtook Convoy XK4 and subsequently put into Milford Haven for more repairs between 7 and 13 May.

Ruegg


Left Gibraltar for Atlantic Convoy. We had a hell of a time. Anyway when I joined HMS Salamander some burly seaman "What did you get that for the biggest load of sh--" my Mention in Despatch. I said "Yes maybe your turn will come"

First time out after Gibraltar we were in action. Subs everywhere and aircraft playing hell, during which time this seaman got hit in the calf. I removed the shrapnel with my sheaf knife and several slaps in his kisser, a few days later when the stitches were taken out the Doc said to him "That's who you have to thank for saving your leg" (pointing to me). I had a sip of his tot most days after that. Early July [September?] 1943 found us patrolling off Norway in and out of Fjords, (HMS Salamander was about 1OOft long crew and officers 108), then to Seidisfiord Iceland to trips with convoy's to Archangel. Refuelled in Spitzbergen each way, two or three weekends in Reykjavik very nice too. Then again to Russia, all hell let loose - vile - (Murmansk).

Source: Alan Gould whose father Jack Gould served on Salamander

29.4.43

Milford Haven

?

F O I/c Milford Haven: Intend taking SALAMANDER in hand to make good defects in aligning of starboard L P engine. Time required 6 days.

15.5.43

Scapa

31.5.43

1.6.43

Londonderry

3.9.43

25.7.43

25/7 During the night SALAMANDER was damaged when SS St Enoch ran into her whilst SALAMANDER was at anchor of Moville. As a result of the damage sustained, SALAMANDER had to proceed up river to Londonderry, and Cockatrice took over her duties as danlayers.

Flotilla delayed sailing until 1100 due to early fog, and then proceeded to area "B Middle", sweeps were got out at 1200, G formation to Starboard in the order Harrier, Seagull and Onyx, Cockatrice and Halcyon danning.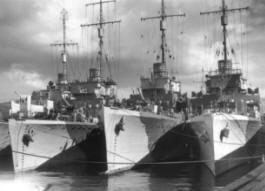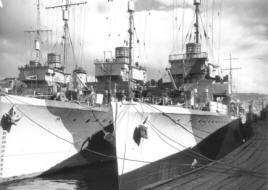 Gleaner, Halcyon, Salamander 6.8.43 Londonderry (IWM A18557/9)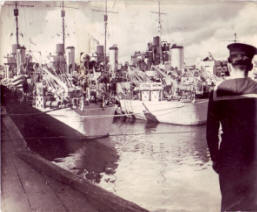 Date of Arrival

Place

Date of Departure

Orders, Remarks etc

4.9.43

Scapa

8.9.43

8/9 SALAMANDER sailed to Iceland for two months of local duties – mainly Operation SF, A/S patrols between Iceland and the Faeroes.

10.9.43

Seidisfiord

19.9.43

21.9.43

Reykjavik

27.9.43

Boiler cleaning

29.9.43

Seidisfiord

2.10.43

2/10 Left Seidisfiord for Operation S F

, returned on 4/10

4.10.43

Seidisfiord

9.10.43

9/10 Left Seidisfiord for Operation S F

, returned to Scapa 13/10

EXTRACT FROM

THE WAR DIARY OF THE COMMANDER IN CHIEF, HOME FLEET
October 1943

110. Operation S.F.

Operation S F continued throughout October but on a reduced scale owing to the withdrawal of all destroyers after the first week. No Fleet destroyers could be made available owing to increasing commitments elsewhere and the Western Approaches. "S" class which had been lent for this operation were required for miscellaneous duties in their own command and for trials

This reduction left the minesweepers, operating under Commander in Chief, Rosyth, from Seidisfiord, to carry on the patrols to which the 15th Flotilla contributed the majority of ships.

All patrols throughout the month were uneventful but Commander in Chief, Rosyth, informed the ships of the effect which their patrols were having in other areas. Air cooperation throughout October was provided by 18 Group.

Details of ships taking part in this operation are as follows:

Destroyers:

SCORPION (1st-2nd, 5th-8th)

SAVAGE (1st-2nd, 5th-6th)

SCOURGE (1st-2nd, 5th-8th)

SARDONYX (1st-4th)

Minesweepers

HARRIER (1st-8th)

HUSSAR (1st-25th)

GLEANER (1st-8th)

SALAMANDER (1st-13th)

FRASERBURGH (7th-31st)

BOOTLE (16th-31st)

LLANDUDNO (9th-31st)

ARDROSSAN (1st-31st)

LYME REGIS (1st-31st)

WORTHING (2nd-31st)

13.10.43

Scapa

18.10.43

SALAMANDER can be taken in hand by ?Dacosous?, South Shields

25/10 Taken in hand 23/10 Tyne, refit, completes 23/12

From F O i/c Tyne: owing to engine and gun defects SALAMANDER will not be ready to sail before 23/2

19.10.43

Tyne

19.2.43

Arrive South Shields for repairs just before Xmas 1943. Two weeks leave including Xmas and New Year.
Source: Alan Gould whose father Jack Gould served on Salamander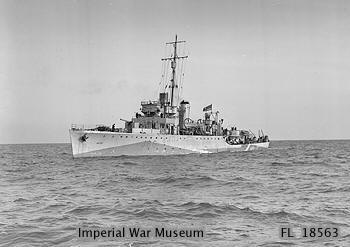 HMS Salamander May 1943 (IWM FL 18563)