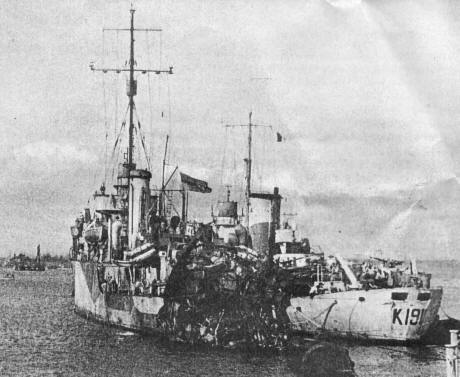 HMS Salamander after 'friendly fire' attack 27.8.44
Date of Arrival

Place

Date of Departure

Orders, Remarks etc

?

Tyne

7.3.44

To Port Z A

Scapa

By 9/3 Jason, Harrier (SO), Speedwell and Hussar had been joined by Britomart, Gleaner, Halcyon, SALAMANDER and Seagull and the 1st MSF proceeded to carry out minesweeping exercises.

16.3.44

Aultbea

17.3.44

24.3.44

Inverness

?

Owing to delay SALAMANDER will now complete 7th May 1944

?

Cromarty

2.4.44

?

Rosyth

12.4.44

13.4.44

Tyne

?

24.4.44

Harwich

1.5.44

1.5.44

Harwich

13.5.44

14.5.44

Portsmouth

9.6.44


End of April early May 1944 HMS Salamander arrive at Harwich for me and on to Ryde, Isle of White. Five nights a week sweeping on the Channel for D Day, June 6 1944

Shortly before D Day pulled into Portland for a couple of days, there a signal for me to report R TO next morning 7 am. 'That's it over there' the CPO said pointing to a Submarine, I almost had a heart attack, before I knew I was serving breakfast, lunch, tea and Dinner on trials down under somewhere in the English Channel, Arrived in Portland same night back to the HMS Salamander quite an experience.

Back to sweeping again every time a little nearer until 6th June 1944 then as far as possible and a few yards from the beach at Arromanches Normandy. 12 midnight, wireless silence because we were given 50/50 chance of not being sunk.

All hell was now let loose, Warships was firing their Big Guns, Paratroopers landing Land Mines, everything going mad. It was hell. We (7 minesweepers), pulling back 1˝ miles - the shortest night not the longest day. Day Time 6th June 1944. As there was radio silence the minesweepers form a square and had a water polo match as there were no orders.

The next day we started sweeping again back and forward to England to keep the mile wide channel open for all shipping. What we saw is nobody's belief it was horrible anyway.

Source: Alan Gould whose father Jack Gould served on Salamander


'Neptune' was the naval operation within operation 'Overlord', the re‑entry by the Allies into Europe via Normandy. SALAMANDER of the 1st M/S Flotilla was attached to Force 'S'. The cutting of the approach channels to the Normandy beaches was the largest single minesweeping operation of any war; 89 British Fleet sweepers were among the 255 minesweepers and danlayers involved. The whole length of the Channel south of latitude 50N to within ten miles of the French coast was mined. Inside this there was a clear area for enemy coastal traffic and inshore of this area it was suspected that there were ground mines. Minesweepers had to cut two channels through the mine barrier for each of the five Assault Forces and sweep any further mines subsequently laid by the enemy. HDMLs fitted with sweeps preceded each minesweeper Leader. The 1st and 15th Flotillas swept the approaches to 'Sword' Beach, the destination of Force 'S'. Prior to the approach to the beach, the clearing, marking and lighting of the approach channels had to be achieved, regardless of the enemy's reaction. The whole operation depended on the success of the minesweepers in carrying out these preliminaries, after which they had to be available to carry out their dangerous job wherever and whenever necessary. The invasion was launched on 6 June, and by 3 July 300 mines had been accounted for. Even so mines did cause some casualties to Allied ships. Once Allied troops had been firmly put ashore, the minesweepers performed whatever tasks were necessary, minesweeping or escorting. Fortunately British ports were close by to provide back‑up and maintenance facilities.

20.6.44

Portsmouth

22.6.44

23.6.44

Harwich

2.7.44

2.7.44

Southend

3.7.44


One morning as I was watching the Paravane out of one side at the stem, an officer was watching the other on the other side 40 foot out. One hit a mine and up it went. The Officer and myself swimming for our lives (thank God I could swim), it took quite a while before we could be picked up - this at 5.30 am - because the ship was at full speed when the Paravanes go out. When I was picked up I was in the nude the officer had on trousers with only one leg.

Source: Alan Gould whose father Jack Gould served on Salamander

?

Portsmouth

8.7.44

?

Portsmouth

22.7.44

Intend sailing SALAMANDER to Harwich for boiler cleaning

29.7.44

Nore

?

?

Southend

6.8.44

16.8.44

Portsmouth

21.8.44


After D-Day the 1st MSF's main task was keeping the swept channel between Portsmouth and Arromanches clear of mines. On 22nd August, operating out of the Mulberry Harbour at Arromanches, they were sent to clear a magnetic minefield off Cap d'Antifer. This was to enable the battleship' Warspite' to get closer to the French coast to bombard the port of Le Havre still in German hands. On being ordered back to their previous duty after a maintenance day at Arromanches, the Commanding Officer of HMS Jason (SO 1st MSF in the absence of the Flotilla leader) pointed out to the staff at the minesweeping HQ that the urgent task off Cap d'Antifer was not completed. An amending signal, cancelling the return to the Portsmouth/Arromanches channel, was duly made.

The 1st. Flotilla, led by HMS Jason and including the Britomart, Hussar, SALAMANDER and the trawler 'Colsay', began their fifth day of minesweeping on Sunday, 27th August, 1944. At about noon on 27 August when the ships were sweeping, an RAF reconnaissance aircraft flew over low, the pilot returning the waves from the ships' companies. Between 1330 and 1340 on this beautiful day, with the sea smooth as a duck pond, sixteen RAF rocket-firing Typhoons, of 263 and 266 Squadrons accompanied by a Polish squadron of Spitfires, swooped out of the sun and attacked the Britomart. On their second attack, the SALAMANDER and Hussar were hit. In just over 10 minutes, two ships were burning and sinking, a third badly damaged and on fire. Men swimming in the water were now subjected to shelling from the German shore batteries.

Hussar and Britomart were sunk and HMS SALAMANDER so severely damaged as to be beyond economical repair. The minesweeper Jason and the dan laying trawler Colsay were also damaged in the attack. A total of 78 officers and ratings were killed and 149 wounded, many seriously. Twenty two men were killed on the Britomart and fifty five on Hussar. Survivors were later told to 'keep their mouths shut about the whole affair'.

A court of inquiry, held at Arromanches two days later, found that this appalling blunder was due to "an error in communications". This regrettable episode occurred because the signal ordering the 1st MSF to resume their task off Cap d'Antifer, rather than sweeping off Arromanches, was not repeated to the Flag Officer British Assault Area. Although, therefore, the reconnaissance aircraft had reported the ships as friendly and the leader of the airborne Typhoons had twice questioned his orders to attack, the shore staff persisted with the strike because it was thought that enemy vessels were trying to enter or leave Le Havre. The RAF was completely exonerated.

Source: http://members.iinet.net.au/~gduncan/maritime-2b.html
Source: National Maritime Museum: Royal Navy Historical Branch - Ship's Histories

CLICK HERE FOR A FULL ACCOUNT OF THE EVENTS OF 27TH AUGUST 1944


The last Sunday in Aug 28th 1944, seven minesweepers (inc HMS Salamander) were sweeping in the mouth of River Somme, after lunch I was asleep on deck in my usual afternoon spot in the sun, rattlers wake me up I started to go up on the bridge, halfway up the first ladder the stem is blown off the HMS Salamander. I am in the water swimming for my life again. I was plucked from the sea by an MTB and put aboard HMS Seagull another sweeper which by this time was preparing to tow the Salamander to Portsmouth, arriving there in the evening.

Source: Alan Gould whose father Jack Gould served on Salamander

?

Portsmouth

25.11.44

?

Southend

27.11.44

In tow of Emarf Harry to Hartlepool

27.11.44

Harwich

?

1.12.44

Tees

SALAMANDER accepted into reserve fleet category C Feb 1st 1945

Feb 46

Approval has been given for SALAMANDER to be scrapped (she was handed over to BISCo).

7.5.47

Arrived at Blyth for breaking up by Hughes Bolckow
Ensign's tragic
tale
WANDERING along the beach of the French port of Villiers-Sur-Mer, a small boy picked up a large tattered White Ensign that had been washed ashore and kept it as a souvenir.
Over forty years later he handed it in to the British Ministry of Defence, and steps were taken to discover its origins, through the letters column of Navy News.
Now it appears that the full tragic story has been finally pieced together and the ensign is from HMS Salamander, a minesweeper operating off the French coast in 1944 and mistakenly attacked and sunk by British aircraft.
Operating with two sister ships, Britomart and Hussar, Salamander had hoisted two extra ensigns in a vain bid to identify the group's nationality, but the attack claimed 86 lives and a further 124 were wounded, leaving Salamander with her stern blown off, and the other two ships sunk.
The six foot by three foot ensign has now found a final resting place in the Hampshire village of Wickham, a village twinned with Villiers-Sur-Mer. Presented to the local branch of the Royal British Legion it now occupies a special place in the Community Centre's special twinning display.
[Navy News 1984]