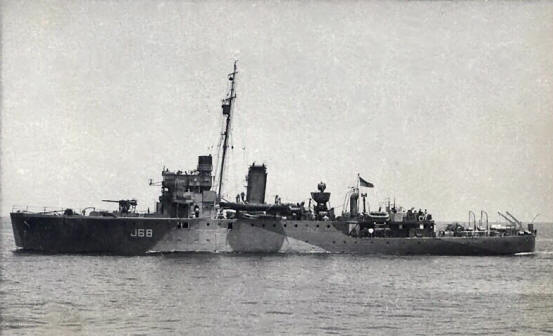 HMS Sharpshooter June 1943
Date of Arrival

Place

Orders, Remarks etc

1.1.42

Murmansk

6/1 From SBNO: SHARPSHOOTER patrolling off Gorodetski to intercept Cold Harbour (one of two ships in PQ7A) and escort her to Murmansk. Ship not met (arrived 12/1)

17.1.42

At sea

17/1 Convoy PQ8 was joined by eastern local escort of Hazard and SHARPSHOOTER despite the thick fog that kept Britomart and Salamander in Kola.

At 1945 the freighter Harmatris was hit by a torpedo from U454 which passed underneath Harrier. Speedwell was ordered to drop back and stand by the stationary Harmatris. An hour later a second torpedo hit Harmatris but failed to explode, the captain thought he had hit a mine. Speedwell was ordered alongside to evacuate some of Harmatris's crew. After much effort a towing wire was passed but Speedwell was unable to move her as the starboard anchor had let go when the torpedo struck and stuck in the sea bed.

At 2200, as SHARPSHOOTER had joined the screen, the destroyer Matabele was sent back to Harmatris. U454 fired another salvo of torpedoes which missed their target, a tanker, but hit Matabele. SHARPSHOOTER took part in the search for survivors. Although about 60 of the 200 crew escaped alive, most were killed by the destroyer's own depth charges and the cold. Only two survived. Harrier recovered the dead from the sea. The volunteer crew withdrew from Harmatris to the relative safety of Speedwell and she circled the freighter all night.

Source: Arctic Convoys by Richard Woodman
18.1.42

At sea

CLICK HERE for report of attack on U Boat by SHARPSHOOTER

At 0600 with both ships (Harrier and Harmatris) alone in the ocean the crew went back to Harmatris and slipped the anchor chain, reconnected the tow wire and at 0800 got under way again. They were now joined by SHARPSHOOTER and Hazard. At noon a Heinkel He111 made a half hearted low level attack but was driven off by the AA armaments of the minesweepers and the DEMS gunners on Harmatris. A second plane dropped her bombs a mile away.

At about 14.30 a high pressure steam pipe on Speedwell burst, badly scalding three men and Youngs signalled for a Soviet tug, which arrived within the hour. Speedwell left at speed to seek medical assistance for her injured crew members. Two further tugs arrived and Harmatris got to Murmansk early on 20/1.

Source: Arctic Convoys by Richard Woodman
23.1.42

At sea

HMS SHARPSHOOTER, Britomart and Salamander carried out a searching sweep for mines between Svyatol Nos and Gorodetski. The ships were attacked by enemy aircraft on both days. On the 24th HMS Britomart shot down one Ju 88. HMS Britomart was hit by two bombs which failed to explode, suffering only slight damage and two casualties; one killed and one wounded. No mines were swept.

24.1.42

At sea

2.2.42

With Hebe and Bramble, SHARPSHOOTER sailed with QP6 (6 ships) as local eastern escort.

5.2.42

At sea

7.2.42

HMS SHARPSHOOTER and Britomart carried out a submarine patrol off Kola Inlet prior to meeting convoy PQ9 and PQ10.

7.2.42

At sea

10.2.42

SHARPSHOOTER was local eastern escort for PQ9/10 (10 ships), with HMS Britomart arriving Murmansk 10/2. No enemy action.

13.2.42

At sea (

?

Hazard and Speedwell provided local eastern escort for QP7 (8 ships) from Murmansk from 12/2 until 13/2 when Britomart and SHARPSHOOTER took over from them until 15/2 (as far as 16 degrees east). No enemy activity.

1.3.42

At sea

Harrier and SHARPSHOOTER provide eastern local escort for QP8 (15 ships) from 1st until dawn on 3rd March as far west as 30°E. The ocean escort included Hazard (Lt Com J R A Seymour Senior Officer, Escort) and Salamander.

21.3.42

At sea

Convoy QP9 (19 ships) sailed with an Eastern Escort for the first two days comprising the destroyer Gremyaschi and the minesweepers Gossamer, Hussar, Harrier, Niger and Speedwell. The Ocean Escort consisted of the destroyer Offa and the minesweepers Britomart and SHARPSHOOTER (Lt Commander Lampen). The cruiser Kenya, carrying 10 tons of bullion was due to cover QP9 but did not make the rendezvous.

The convoy ran into short visibility from the start which afforded protection from the attentions of both friend and foe. A gale of wind force 8-9, sea 7, with heavy snowstorms was encountered during the 23rd and 24th March. As the weather abated that evening, 70 miles south of Bear Island, SHARPSHOOTER rammed and sank a U-boat (U655), which she sighted 300 yards off in a snow squall. She sustained damage, but was able to continue under her own steam independently, turning over the convoy to Offa.


From HMS SHARPSHOOTER
24.3.42
IMMEDIATE
Have rammed U boat in position 073 degs. 25' North, 020 degs. 50' East rudder damaged fore peak – slightly damaged am unable to proceed in present weather.
Signalman Kenneth Hendry, HMS SHARPSHOOTER:
'We left the Kola Inlet as senior escort for the return convoy QP9, together with the destroyer Offa and two trawlers. The convoy consisted of about half a dozen merchant ships and we were stationed ahead, doing the usual zig-zag sweep. All was quiet until the evening of our third day at sea. It was dark but visibility was reasonable when the showers cleared.'
'I went on watch at 8 p.m. The weather was fairly calm but with frequent snow showers, keeping you on your toes at the end of each leg of the sweep to ensure that you were still on station and that none of the merchant ships was uncomfortably close, which often occurred in such conditions. It was dark but visibility was reasonable when the showers cleared.'
'It was about 8.25 p.m. and we had just turned and settled on to another 'leg' with a snow shower clearing ahead of us, when there was a hail from the leading-gunner closed up on the four inch on the foc'sle. Two or three cables away and about 10 degrees off our starboard bow we saw a U-boat lying beam-on with, as far as could be seen, no one on deck or in the conning tower. The OOW called the captain and I sounded off action stations. The captain (Lieutenant-Commander David Lampen RN) immediately called the engine room for emergency-full-ahead and the "Stand by to ram!" – and we had just begun to gather speed when we struck the U-boat just abaft the conning tower. She turned across our bow, listing, and bumped down our port side, obviously sinking as she went, and finally disappeared into the gloom astern. It was all over very quickly. SHARPSHOOTER had stopped engines, damage control parties had already been mustered and I was ordered to signal by lamp to any ship I could see, "Have rammed U-boat – think I am sinking – please stand by me". I managed to flash the signal to two merchant ships coming up astern but they were probably too preoccupied with avoiding us to read the signal. Later damage control parties reported that the forward mess deck was shored up and the pumps were coping, and Offa came alongside. She was instructed to take over the convoy and leave us to proceed at slow speed independently. The next few days as we limped along were pretty worrying, but the weather proved kind and we eventually reached Iceland.'
Source: Out Sweeps by Paul Lund and Harry Ludlum
This event was a great tonic, not only for SHARPSHOOTER but for all the ships who had such a dangerous and difficult task on the 'Kola Run'. SHARPSHOOTER proceeded ahead of the convoy to Iceland where she arrived on 30 March. After temporary repairs, SHARPSHOOTER went on to Leith for an extended refit and, in the flush of fame, a royal inspection by King George and Queen Elizabeth. (Ruegg)
<![if !vml]>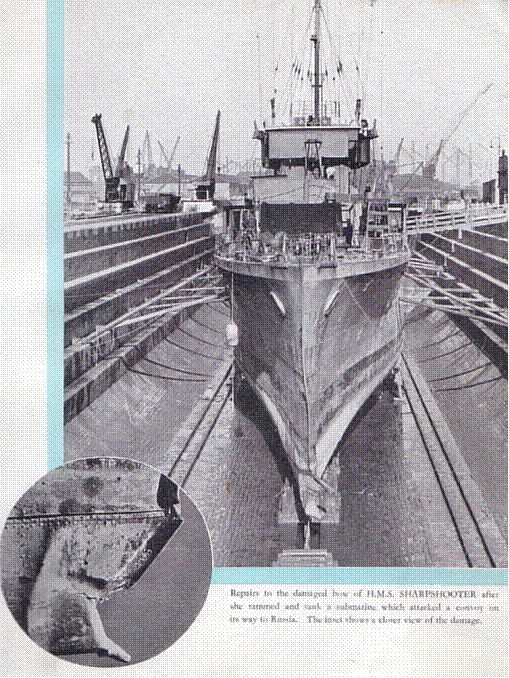 <![endif]>
HMS Sharpshooter Source: Leith Built Ships

'The minesweeping sloop "SHARPSHOOTER", which we had through our hands on several occasions, gained considerable public attention when she sank a German submarine while on Russian convoy duty. She rammed the submarine going at full speed, which resulted in fairly extensive bow damage. This we repaired in the Prince of Wales dry-dock. Photographs show the stem bent to the form of the submarine.'

'During the course of the repairs the whole of "SHARPSHOOTER's" bow was suitably stiffened to obviate such extensive damage occurring if she had the good fortune to ram another submarine. The commanding Officer of the "SHARPSHOOTER" was decorated and promoted Commander for this action.'

Source: 'Leith Built Ships on War Service being the war-time history of the firm of Henry Robb Ltd'.
<![if !vml]>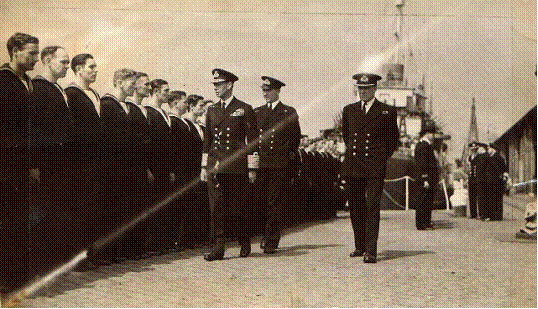 <![endif]>
Sharpshooter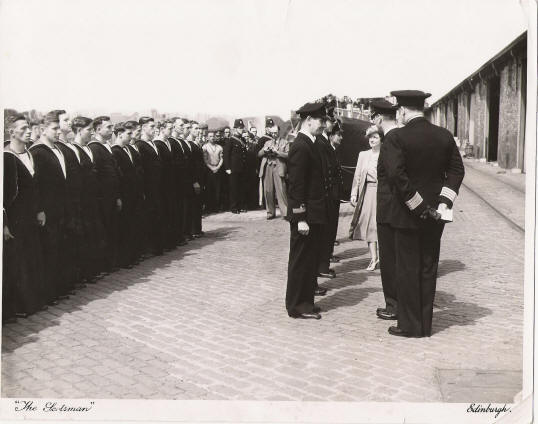 King and Queen inspecting crew. Source: Michael Blackwell

ADM 199/1782 Proceedings of U-boat assessment committee. Attack on U-boat by Sharpshooter
Précis of Attack by SHARPSHOOTER
Date: 24.3.42
Time: 1835
Position: 73° 25' N, 20° 50' E
Depth of water: 290 fathoms
Weather: Wind E.N.E. Force 8-9, snow squalls, visibility 1 ¼ cables
NARRATIVE
SHARPSHOOTER was Senior Officer of the escort of Convoy PQ9 and at 1835 sighted a U-boat at a range of 300 yards crossing ahead of her from starboard to port. SHARPSHOOTER adjusted her course so as to ram, and struck the U-boat. No details are given of the ramming except that the U-boat turned upside down and sank stern first. The only wreckage observed was two life-buoys and a canvas dinghy. A diagram of the incident has been forwarded.
CO'S OPINION
It is considered that this U-boat definitely sank.
C IN C HF's OPINION
None expressed.
SUBMARINE TRACKING ROOM'S OPINION
Tracking evidence suggests that this U-boat may have been sunk.
DECISION OF U-BOAT ASSESSMENT COMMITTEE
Assessment 'Sunk'.
21st May 1942
Date of Arrival
Location
Date of Departure
Orders, Remarks etc

30.3.42

Iceland

2.4.42

31/3 SHARPSHOOTER can be taken in hand by Messrs Robbs of Leith for half yearly docking on 8/4
With BRITOMART sailed for Scapa.

8.4.42

Scapa

8.4.42

9.4.42

Rosyth

10.4.42

D of D 20/4 Taken in hand 14/4 Docking repairs to underwater damage and A's and A's. Completes early June 42

10.4.42
Leith
24.6.42
1/5 To Rosyth. SHARPSHOOTER docked in Prince of Wales dry dock Leith 1.5.42
D of D 25/5 Completes 8.6.42 ex trials
D of D 8/6 Completes 22.6.42 ex trials
26/6 From C in C Rosyth: All trials being satisfactory proceed after degaussing ranging a.m. 27th by standard route to Scapa.

?

Rosyth

27.6.42

28.6.42

Scapa

30.6.42

1.7.42

Rosyth

12.7.42

13.7.42

Scapa

13.7.42

?

Scapa

14.7.42

16.7.42

Iceland

3.8.42


SHARPSHOOTER remained at Hvalfjord for a time in August with degaussing problems, then with the venerable destroyer Skate she escorted Convoy RU34 from Iceland to the Clyde. (Ruegg)


8.8.42

Greenock

14.8.42

?

Scapa

18.8.42
Source: ADM 101/613
HMS SHARPSHOOTER Medical Officer's Journal 19th August 1942 – 30th September 1942 (Extracts)

Surgeon Lieutenant D Micklewright RNVR

Average numerical strength of Ship's Company 119

(Note: Actual Illnesses have been omitted out of respect to 'patient confidentiality')
Number

Name

Age

Rank

Admission

Discharge

No. Days Sick

C/MX 77951

BURN William

33

ERA

29.8.42

5.9.42

7

CAMMIADE Philip

Lt Com

20.9.42

Still in treatment

10

C/JX 206986

CARCARY William

21

AB

30.8.42

31.8.42

1

CARTER William

22

Sub Lt

29.8.42

31.8.42

2

C/CX 23017

COLLINS Ernest

22

12.9.42

23.9.42

11

C/MX 56947

HASSELL Charles

31

ERA

11.9.41

Still in treatment

19

C/K 67202

HILLS William

33

Sto PO

6.9.42

23.9.42

17

C/KX 107120

HULME James

29

Sto 1

5.9.42

17.9.42

12

C/KX 35205

JOHNSTON David

26

Sto 1

26.9.42

Still in treatment

4

C/MX 77210

VEST Edward

21

ERA

6.9.42

Still in treatment

24

C/KX 83369

WOOLFORD Fred

27

Sto PO

29.9.42

Still in treatment

1

Minor Injuries (Cuts, bruises, scalds etc)

CJ/115012

BAKER Herbert

33

L/Sea

15.9.42

30.9.42

15

C/KX 129865

BROCKWELL Frederick

32

Sto 1

18.9.42

24.9.42

6

C/JX 258970

GRAY David

29

O/Tel

23.9.42

30.9.42

7

C/JX 220667

HENDRY Kenneth

28

Sign

28.9.42

30.9.42

2

C/KX 103872

HUSBAND John

22

Sto 1

18.9.42

23.8.42

5

C/JX 279993

IZAAC Leslie

20

AB

6.9.42

8.9.42

2

C/JX 142661

JARVIS Leslie

23

AB

29.8.42

3.9.42

5

C/LX 31721

KELLY Timothy

19

Stw

7.9.42

12.9.42

5

TDX 2137

MARSHALL Albert

22

AB

20.9.42

Still in treatment

10

C/J 93945

NEWHALL John

40

CPO

15.9.42

22.9.42

7
General Remarks

There are two cots in the sick bay. There were two cases of suspected Diphtheria. These cases appeared three days after the termination of leave. The sickbay was aired and the bedding left on deck for several hours.

Scabies: Facilities for cleansing clothes and blankets at sea are poor. Blankets can be soaked in disinfectant and heated by means of a steam jet, but re-infection is likely.

Lectures

One lecture on venereal disease has been given. It was attended by the whole ship's company.

Vermin

Cockroaches are numerous

Survivors

During action from September 13th 1942 to September 15th HMS SHARPSHOOTER acted as rescue ship to the Russian bound convoy. One hundred and one survivors were picked up about twenty of which had been in the sea. One negro who had been in the water about 20 minutes was in a very poor condition, but it was remarkable how he and all the other shocked cases responded to warmth and morphia.

One Russian survivor was transferred from an accompanying destroyer two days after he had been injured. He had four shrapnel wounds, one piece at least had penetrated the lung. His general condition improved and at time of transfer to a Russian hospital he was afebrile.
Date of Arrival
Location
Date of Departure
Orders, Remarks etc

22.8.42

Aberdeen

29.8.42

Boiler clean

29.8.42

Scapa

1.9.42

1.9.42

Aultbea

2.9.42

?

Scapa

2.9.42

From Seidisfjord

Following their successes against PQ17 the Germans were expected to mount a big offensive against PQ18. The escort for this convoy was strengthened appropriately and SHARPSHOOTER was to act as both an escort and as one of the rescue ships.


3.9.42

At sea

At 0600, SHARPSHOOTER with (submarines) P614 and P615 sailed from Seidisfiord to rendezvous with PQ18 (44 ships). A German Focke-Wolfe reconnaissance plane was sighted at about 1930 and a signal received next day confirmed that the ships had been reported by the plane.

Source: ADM 1/ 12427 Convoy PQ18 to North Russia

5.9.42

At sea

The Convoy was sighted at 1035 in position 68°36'N, 17°55'W, SHARPSHOOTER and the submarines taking up their appointed stations by 1200. A signal from M.S.6. ordered SHARPSHOOTER with HM Trawler St Kenan to be responsible for rescue work of ships in columns 6 to 10.

Source: ADM 1/ 12427 Convoy PQ18 to North Russia

10.9.42

At sea

Three U-boats were deployed along longitude 3°W between 76°30'N and 74°30'N. Four more boats were ordered to concentrate between Bear Island and Spitzbergen and another five were instructed to close the area.

1150 destroyers attacked a submarine on the starboard wing of the convoy.

1215 SHARPSHOOTER obtained contact with a submarine and counter attacked with 3 charges. Contact was regained after 5 minutes and a hunt commenced, 3 deliberate attacks were delivered and confirmed by the track of oil. CLICK HERE for Report

1325 Contact was lost and SHARPSHOOTER rejoined convoy.

Source: ADM 1/ 12427 Convoy PQ18 to North Russia

One morning (I was on the middle watch from midnight to four), at about half past one, I was talking to my Petty Officer in the Boiler Room. We were reminiscing about home, his missus and kids and that sort of thing when I heard a loud noise like a train going through a tunnel three times. The PO said "Know what that it, Stokes?". I said "No, what was it?". And he said, "That was three tin fish just nipping under us".

Seconds later there were three dull thuds - somebody had had it. The PO just said a little prayer and mopped his brow with his sweat rag. I can tell you, it made me think a bit. I was going to be glad to get out of that boiler room at four o'clock.

Source: Edmund (Sam) Crook, Stoker, HMS Sharpshooter - A Matelot at Heart

13.9.42

At sea

At 0358 on Sunday 13th September SS Stalingrad (Russian) and SS Oliver Ellsworth (USA) , carrying a full cargo of aircraft and munitions, were torpedoed by a U-boat. Survivors were picked up by HM Ships Harrier, SHARPSHOOTER and St. Kenan and the three motor minesweepers. At 0945 HMS Harrier set on fire SS Oliver Ellsworth by gunfire, after which 15 survivors (Russian) were transferred from MMS 203 to HMS Harrier. All the rescue ships rejoined the convoy by about 1100 and survivors from HMS St Kenan and MMS's 90 and 212 were transferred to HMRS Copeland.

Source: Report of Senior Officer MS6

At 1131 a further submarine contact was obtained and a hunt developed. After the first pattern of Depth Charges, the submarine's conning tower broke surface and then submerged. MMS Tartar who had returned to assist confirmed contact and delivered two attacks. SHARPSHOOTER delivered three more attacks with a further sighting of conning tower as before, and air bubbles. Contact was lost at 1219 and the ship was ordered to rejoin the convoy. CLICK HERE for Report

Source: ADM 1/ 12427 Convoy PQ18 to North Russia

At this time we got a good contact on a U-boat which we attacked with a three patterned depth charge run. The conning tower broke surface with much oil and bubbles coming with her, and then she sank to the depths, but it wasn't confirmed as a kill. As the days went by, the U-boats continued to get inside the screen among the convoy, making it awkward to carry out depth charge attacks against them, with air attacks from dawn to dusk thrown in as well. We were dead lucky or something as we steamed on, nice and steady.

Source: Edmund (Sam) Crook, Stoker, HMS Sharpshooter - A Matelot at Heart

At 1500 hours the first air attack was made by a force of Ju 88 bombers from high altitude. This was unsuccessful but seemed to be diversionary. It was immediately followed by a force of 40 He111 and Ju88 torpedo bombers on the starboard bow. The aircraft approached in line abreast, 100 to 150 yards apart and maintaining their positions in the face of intense barrage put up by the escorts, and dropped their torpedoes within 2,000 yards. Surgeon Lt-Cdr J L S Coulter RN, HMS Scylla's medical officer watched the attacks from the back of the ship's bridge:

'They approached the convoy in line ahead from the starboard horizon. When level with the convoy they all turned towards it and attacked in line abreast. Each aircraft flew low over the water, and as the torpedoes were launched, each flew down the whole length of the convoy firing its armament. There is no doubt that the attack was carried out with magnificent courage and precision, and in the face of tremendous gunfire from the whole convoy and its escort. The tanker in the next line abreast of us was hit early on by a torpedo which finished its run-in just above the tanker's funnel. At that second the whole tanker and aircraft were enveloped in a crimson wall of flame which seemed to roll over and over up into the sky until it dissolved into a vast cloud of black smoke. When I looked down at the sea again, apart from a small occasional flicker of flame on the water, there was no sign of either the tanker or the aircraft and I realised that they had both blown up.'

Source: Convoy! Paul Kemp

The attack had been extremely successful and had decimated the starboard side of the convoy, sinking six of the seven remaining ships and two from the middle of the convoy. The Empire Beaumont was hit and set on fire, her crew abandoning ship in the lifeboats. SHARPSHOOTER rescued 35 survivors from one boat. The Macbeth, carrying a cargo of foodstuffs, explosives and tanks, was attacked by a Heinkel 111 which at a range of only some 40 feet released two torpedoes and banked away unscathed. The crew abandoned ship and the Macbeth was found sinking by SHARPSHOOTER soon after.

There were two more attacks on the 13th that were driven off. The Germans lost eight aircraft.

At 1515 eight ships were torpedoed by aircraft. All rescue ships and at least one destroyer proceeded to pick up survivors. While this work was in progress six HE115 torpedo planes attempted unsuccessfully to save us the trouble of sinking the disabled ships. HMS SHARPSHOOTER was ordered to rejoin the convoy at about 1600 in case of further attack. By 1645, no more survivors could be found and the trawlers and motor minesweepers were ordered to rejoin. Three ships, SS John Penn, SS Macbeth and SS Empire Beaumont were still afloat and a fourth, SS Sukhona, had been lost to sight in snow storms without being seen to sink. Fire was opened by HMS Harrier upon SS John Penn and SS Macbeth but was apparently ineffective. I did not consider it advisable to use depth charges – of which ships were already getting short – for sinking ships. The convoy was by now nine miles ahead, out of sight in snowstorms, and I decided to abandon the attempt to ensure that all ships sunk in order to escort the trawlers and Motor Minesweepers back to the convoy. At about 1815 SS John Penn could be seen settling by the stern but no other ships were visible.

Source: Report of Senior Officer MS6
14.9.42

At sea


At 0325 on Monday 14th September, SS Atheltemplar was torpedoed in the engine room. Two boatloads of her crew were picked up by HMS SHARPSHOOTER while HMS Harrier went alongside and embarked the remainder, including two seriously injured. It was evident that this ship was not sinking. The Rear Admiral (Destroyers) that if she could steam HMS SHARPSHOOTER was to tow her to Lowe Sound, Spitzbergen. I considered the possibility of doing this even though she could not steam, but decided that if this were attempted without an adequate escort (which would not be available) there was little chance of success since a further attack was almost certain and there would be an unjustified risk of losing the towing ship and also both ship's companies. I therefore very reluctantly signalled my intention to sink her and was ordered to do so. At this point HMS Tartar arrived from a hunt and at my request undertook the destruction of HMS Atheltemplar.

Report of Senior Officer MS6

At 1235, twenty or more aircraft attacked the convoy with a large group going for the carrier Avenger. The attack was beaten off without loss and eleven aircraft were destroyed.

Shortly after this twelve Ju88's carried out an unsuccessful high level attack, losing one aircraft, followed by an attack from 25 torpedo bombers whose target was again the Avenger. The carrier had ten of her Hurricanes airborne which destroyed eight of the attackers, a further aircraft being shot down by Motor Minesweeper No.212. One freighter carrying ammunition was spectacularly destroyed by a torpedo and three Hurricanes were brought down by 'friendly fire' from the convoy. Seventy German aircraft had made four attacks for the loss of twenty aircraft and fourteen highly trained crews.

At 1700, SHARPSHOOTER transferred 95 survivors onto the cruiser Scylla. There were 578 survivors from the 12 ships that had sunk up to that time. This action was considered humanitarian as it allowed the rescued crews to return home rather than spend many months in the spartan conditions of Archangel. SHARPSHOOTER resumed position at 1745.

<![if !vml]><![endif]> <![if !vml]><![endif]>

Photos of HMS Harrier (SHARPSHOOTER'S sister ship) transferring survivors to HMS Scylla shortly before SHARPSHOOTER carried out the same operation.

(CLICK HERE to see video extract - Windows Media Player required)

<![if !vml]><![endif]> <![if !vml]><![endif]>

Source: Pictures 'grabbed' from Naval Video Time Capsules – The Hazards of Russian Convoys

A little later we assembled again on the forecastle to wait for Sharpshooter to come alongside with more survivors. This time our crane was needed to bring in a stretcher case. With another display of great seamanship the Sharpshooter secured alongside. The waves of survivors swarmed over our guardrails, many of them Americans in great yellow inflatable sur­vival suits, looking like strange denizens of some other planet. One of them, in such a suit and heavy glasses leaned against the steel of the deck‑house, staring into space, and moved like an automaton when gently prodded by his shipmates Behind the spectacle lenses, his eyes, vacant and blank, bore witness of the shocked brain behind them; a brain just of commanding the limbs to move. Aft of the forecastle, the electric crane swung out over the minesweeper's deck, and the stretcher case was craned slowly and tenderly inboard. There was a look of great relief on the drawn, white face of the wounded man as strong hands gripped the stretcher, and gently lowered it to the deck. There were a few words of gruff and the man smiled weakly but happily as they carried him to the sick bay.

Source: 'Flagship to Murmansk' Robert Hughes

Signalman Hendry: 'We had just suffered a big attack by German torpedo bombers and one of the ammunition ships had been torpedoed and gone up in a cloud of smoke and flame in the middle of the convoy. Being one of the tail-end Charlies we were ordered to search for any survivors. We had cruised around for quite a time in a sea covered with pieces of wreckage and an oily scum when we spotted a man on the edge of it all and got him on board, remarkably uninjured apart from shock. He was a coloured American cook from a Liberty ship, who told us he had been manning the ship's after gun when a sudden explosion blew him into the sea - apparently the only survivor. "Yessir, I sure am a lucky guy!" he repeated over and over again'.

'The surprise came later when we found that his ship was still safely afloat.; it was actually the ship abeam of her which had been hit and gone down, the blast from the explosion having travelled across and hurled him into the water. But he certainly was a "Lucky guy", considering how small a man looked in the sea. It was after this torpedo bomber attack that one of the two British submarines in the escort with us sent the signal to the senior escort, "I want to go home to Mum!", a sentiment we all echoed'.

Source: 'Out Sweeps!' Paul Lund and Harry Ludlum

15.9.42

At sea

At 1045 SHARPSHOOTER proceeded alongside HMS Fury to receive one seriously wounded Russian Merchant Officer, taking up position again at 1210.

Between 1235 and 1535 a force of about fifty bombers attacked the convoy in twos and threes; three were shot down. The Convoy proceeded at 9 knots without serious incident apart from submarines reported in the vicinity who were attacked on all occasions and driven off or sunk, without damage to escort or convoy.

16.9.42

At sea

At 1530 on Wednesday 16th, on the departure of the Rear Admiral Destroyers and the covering force, HMS Harrier was ordered by the senior officer of the Escort to take up position M and act as guide of the screen. The duties of Senior Officer, Rescue Force were turned over to the Commanding Officer, HMS SHARPSHOOTER with instructions that damaged ships should, if possible, be brought into Iokana.

Source: Report of Senior Officer MS6




CLICK HERE to see one of the Halcyons during PQ18
(IWM ADM 517)

With the lack of sleep and the intense cold now causing condensation, and icing up of the messdeck bulkheads, life was getting a bit hellish, I can tell you. If you were lucky enough to get thrown into the sea and your ship gone beneath you, it was a certainty that you would freeze to death in those icy Arctic waters if you weren't picked up within minutes. Yet in spite of everything seemingly against us, the old Sharpshooter just steamed on, sometimes at a crazy angle, as we beat our way to the top of the next gigantic wave, all of the plates straining, only to career once again down into the valley of white foam and brown spume, conquering what seemed to be the impossible as we gradually made our way ever onward at a steady eight knots, edging nearer to Archangel.

Source: Edmund (Sam) Crook, Stoker, HMS Sharpshooter - A Matelot at Heart

17.9.42

At sea

At 1745 on 17th the Russian destroyer on the starboard quarter lost a man overboard and HMS SHARPSHOOTER assisted her in an unsuccessful search.

Source: Report of Senior Officer MS6

18.9.42

At sea

The weather continued poor, a near south-easterly gale with low visibility.

At about 10.30, twelve four engined Heinkel 111's, led by Werner Klumper, deployed in line abreast across the rear of the convoy and were met by the combined fire of the Ulster Queen, Gremyashchi and SHARPSHOOTER as well as the rear merchant ships in each column. The attack was so low that a splash barrage was put up. Most of the Heinkels released at 3 – 4,000 yards. Only one cargo ship, the American vessel Kentucky, was hit in No. 2 hold. The 55 crew and 14 armed guards abandoned ship but the vessel remained afloat.

Harrier proceeded to the van of the screen ordering SHARPSHOOTER to organise rescue work with Trawlers and the Motor Minesweeping Vessels. The crew of Kentucky had abandoned the ship and were picked up by the M/M vessels.

SHARPSHOOTER was ordered by Ulster Queen to stand by Kentucky until tugs arrived, HM Trawler Cape Marriato was retained to act as additional escort. As she appeared to be in no danger of sinking and capable of steaming, HMS SHARPSHOOTER stood by with the intention of placing a Naval Salvage Party onboard and of inducing the crew to return as soon as the air attack was over. Whilst turning to proceed alongside Kentucky, both SHARPSHOOTER and Kentucky were dive bombed by a Junkers Ju88. Kentucky was hit aft by two bombs and set on fire. SHARPSHOOTER suffered near misses which caused a slight leak in her port oil fuel tanks.. It was considered impossible to proceed alongside Kentucky with her stern on fire and position becoming increasingly uncomfortable from bombers. SHARPSHOOTER fired a few rounds into the burning ship and Cape Marriato was ordered to follow SHARPSHOOTER and rejoin convoy under cover of their own barrage (the convoy was still under torpedo attack). The trawler was bombed three times en route without injury.

When two miles astern the Convoy a further torpedo bomber attack developed by 12 aircraft. There was no loss to the convoy. The air escort arrived pm and were present during daylight hours until arrival at Archangel.

Source: Convoy PQ18 Arctic Victory, Peter C Smith

'Following the attack on Kentucky it was reported on the BBC that Sharpshooter had been sunk' - Stoker John Budd, HMS Sharpshooter

At 1620 the convoy was met by the local eastern escort of Britomart, Salamander, Halcyon and Hazard.

19.9.42

At sea

At 1700 the convoy arrived off Archangel but a north westerly gale prevented ships proceeding into harbour until Monday 21st September. During the passage of this convoy the enemy lost three U-boats and about 40 aircraft but managed to sink 13 merchant ships.

20.9.42

At sea

Four ships ran aground on the Dvina Bar at the entrance to the White Sea during an attack by twelve Ju88's while seeking shelter during a gale. Britomart, Ulster Queen and a Russian destroyer remained to protect the merchantmen. At 1545 two Ju88's attacked but missed the ships.


Sharpshooter, along with two 'sisters' from the same flotilla, Harrier and Gleaner, pulled alongside the jetty in Archangel for a longed-for and well-earned break. We had a good shower, some hot food, and just 'crashed our swedes'.

Soon we were up and about and handed passes to get ashore. Who'd think we'd need a pass to go ashore in the land of an ally? Well, we did. We made our way to the dock gates along the jetty, which was built of pine logs, amongst the tanks, planes and ammo that was being unloaded from the merchantmen. We were dressed in our sealskin coats, hats and cloves because it was bloody cold, and soon we were out on the street. All of the houses were made of timber. I never saw a brick building at all. Soon we were in the Intourist club where it was, at least, warmer.

Outside the club it was well below freezing as we slipped out of our sealskin coats, hats and gloves, and in no time a stoker off our ship who'd been to the club before told us to leave the drinks to him - which we did. All of us put our chocolates, sweets, fags and soap on the tables. At this, a slim Russian waitress brought us glasses of hot tea and large glasses of vodka. In no time we really warmed up and started singing a ditty or two, and did a bit of dancing with the one or two women there. All in all we had a good run ashore. Although we couldn't understand their lingo, we managed to get by with sign language. Of course, some of the lads from other ships had been on trips before and they could converse, but although I was still a young lad, I could understand it all. It was great to take part with the older shipmates who always kept a friendly eye on me.

Source: Edmund (Sam) Crook, Stoker, HMS Sharpshooter - A Matelot at Heart
Source: ADM 1/ 12427 Convoy PQ18 to North Russia
RECOMMENDATIONS FOR AWARDS TO HMS SHARPSHOOTER FOLLOWING CONVOY PQ18
Lt Cdr Phillip Francis CAMMIADS, RNVR. Recommended for mention in despatches
For zeal and devotion to duty during Operation E.V. (PQ18)
Henry Albert POLLARD, Petty Officer, G/J 43336. Recommended for decoration.
For efficiency and devotion to duty in rescue work during Operation E.V. (PQ18)
John NEWALL, Chief Petty Officer, C/J 93945. Recommended for mention in despatches
For efficiency and devotion to duty in rescue work during Operation E.V. (PQ18)
Cecil William BURN, Engine Room Artificer 4th Class, C/HX 77951. Recommended for mention in despatches
For efficiency and devotion to duty in rescue work during Operation E.V. (PQ18)

SURVIVORS RESCUED BY SHARPSHOOTER DURING PQ18.
| | | | | |
| --- | --- | --- | --- | --- |
| Date (Sept) | Time | No. Survivors | Ship of origin | Disposal |
| 13th | 0900 | 30 | Oliver Ellsworth | Scylla |
| 13th | 1530 | 33 | Empire Beaumont | 30 Scylla, 5 Archangel for Empire Bard |
| 14th | 0345 | 35 | Athel Templar | Scylla |
| 14th | 1430 | 1 | Nathaniel Green | Archangel |
| 15th | 1500 | 1 | Toilisi (from Fury) | Archangel |
HMS Sharpshooter Medical Officer's Journal 1st Oct – 31st Dec 1942 (Extracts)

Number

Name

Age

Rank

Admission

Discharge

No. Days Sick

C/KX 130302

BARRAT William

29

Sto 1

19.10.42

27.10.42

8

MX 51832

DOREY Charles

28

Ch ERA

23.10.42

26.10.42

3

LD/X 4691

DUTTON Frank

29

Sign

4.10.42

17.10.42

13

C/JX 151347

FOSTER Sidney

21

L/Sea

1.10.42

6.10.42

5

C/JX 184849

HOLLIDAY Edward

24

AB

16.10.42

18.10.42

2

C/JX 279987

HOPE John

21

AB

4.10.42

19.10.42

15

C/JX 310397

KERR Robert

19

O/Sea

9.11.42

13.11.42

4

C/JX 81066

LAIDLAW Frank

32

Sto PO

12.10.42

20.10.42

8

C/X 25185

LAKIN Cyril

23

O/Stw

4.12.42

14.12.42

10

C/KX 92542

LUSTY Lawrence

23

Sto

1.10.42

5.10.42

4

TD/X 2137

MARSHALL Albert

22

AB

1.10.42

3.10.42

2

C/JX 193419

SIMPSON John

24

AB

14.10.42

17.10.42

3

C/KX 118714

THOMPSON Thomas

28

STO 1

15.11.42

19.11.42

4

C/KX 103859

WILLIS Charles

21

STO 1

1.10.42

6.10.42

5

MINOR INJURIES (Cuts, bruises, scalds etc)

C/SBR 4810

APPLEYARD Harry

45

SBA

6.11.42

7.12.42

11

C/KX 102848

BISHOP Frederick

24

Sto 1

6.11.42

8.11.42

2

C/KX 147440

CROOK Edmund

18

Sto 2

21.10.42

26.10.42

5

C/KX 131998

HART Frederick

32

Sto 1

15.10.42

17.10.42

2

C/KX 131999

HEADLAM George

32

Sto 1

6.11.42

7.11.42

1

C/SR 8136

JUDGE John

26

L/Cook

5.12.42

9.12.42

4

C/JX 279999

JONES McMurdo

39

AB

2.10.42

4.10.42

2

C/MX 51892

KNOTT Harry

22

Shipwright

26.11.42

27.11.42

1

C/KX 81066

LAIDLAW Frank

32

Sto PO

2.11.42

3.11.42

1

C/JX 206986

LEE Frederick

22

AB

12.10.42

6.11.42

25

C/JX 300365

LYNN George

40

Tel

11.10.42

18.10.42

7

TD/X 2137

MARSHALL Albert

22

AB

9.10.42

14.10.42

5

C/SX 299155

PARKER Leslie

20

AB

2.10.42

3.10.42

1

C/SSX 35957

REID Kenneth

20

AB

11.10.42

12.10.42

1
Date of Arrival
Location
Date of Departure
Orders, Remarks etc

?

Dvina Bar

16.10.42

Three ships of the 6th MSF – HMS Halcyon, Sharpshooter and Hazard – were detailed for special sweeping operations with Russian convoys. A Russian Captain of the third rank and an interpreter embarked in HALCYON for the operation and the three ships sailed from Archangel on the 16th October 1942 in a southerly gale.

The Flotilla was to rendezvous with two Russian ships South East of Kolguev Island but. as the ships did not put in an appearance at the appointed time, the Flotilla continued in execution of their further orders.

In the small hours on the 18th the Flotilla ran into brash ice North of Matveey Island; ice strong enough to stop the ships and choke the condenser inlets. Here, the Flotilla had to carry out an Oropesa and Acoustic search.

The former was out of the question because of the ice but the Acoustic sweep was exercised with vigour in the hope that lots of mines would go up and of course there was always the hope that the ice would go up too! But, there were no mines, and the ice continued to impede progress so the flotilla proceeded to the convoy anchorage and, to add to the difficulties, a thick fog enveloped them.

They call it 'sea smoke' in ice waters. Solid stuff, nearly always present under most conditions when ice is about. One just cannot see a yard ahead when it is about. But in view of the urgency ordered for sweeping the Russian convoy out of their assembly anchorage the Senior Officer Minesweepers in HMS HALCYON, Commander C.H. Corbet‑Singleton, D.S.C.,RN (the United Services forward) carried out a noteworthy fine piece of pilotage by forging ahead entirely on time‑and‑distance‑run and echo sounding machine, into the harbour through a narrow channel with two sharp turns. Fortunately, a good fix had been obtained before entering the 'smoke', but the operation required nerve and ability. The three ships arrived safely.

On arrival, Commander Corbet‑Singleton went over to the Russian Flagship LYDKE with his Russian Captain to call upon Commodore Annin. It was learned that the convoy was due to sail at 1230 the next day and, 'sea smoke' or no 'sea smoke' the Russian Commodore expected the English minesweepers to do their stuff. Commander Corbet‑Singleton quite naturally felt rather dubious about sweeping into the patch of 'smoke' especially as it would be getting dark when the sweep would be due to commence. However, he realised that the 'English minesweepers' were expected to do something about it so he played up knowing he had two good Commanding Officers in the SHARPSHOOTER and HAZARD. They swept 'LL' round the bends in negative visibility, but fortunately without incident. 24 inch searchlights produced only a faint glimmer at 11 cables. Nevertheless, the channel to the harbour was swept and no mines resulted, and the Minesweepers returned to harbour for the night.

Next day, they proceeded to sea at dawn and they promptly commenced sweeping mines, the detonation of which, of course, delayed the convoy's sailing until a full clearance sweep had been carried out. Fortunately, high winds had cleared a great deal of ice and after a full day's sweeping the area was considered safe for the convoy to proceed the next day. But, due to local delays, the convoy did not sail the next day and in fact not until two days later. Then, although the convoy was due to sail early in the day, when it did sale it was late in the afternoon, and the delay badly hampered making an important landfall by the next day. Fortunately the weather was good at the start, but not for long. Ice was again met, together with low visibility and snowstorms, but the British minesweepers escorted the convoy safely to the Dvina River, and swept them through the Archangel sea approaches safely.

Source: The Minesweepers Victory, Hilbert Hardy

17.10.42

At sea


On the 17th the Russian Naval Staff reported that the Merchant vessel Shchors had been sunk by a mine off Yugorski Strait and enquired whether the minesweepers could be diverted in order to sweep first the Yugorski area on their way to Matochkin. The ships coming through the Yugorski Strait, which included the Hopemount and Icebreakers from the Northern passage, were felt to be of much greater importance than those at Matochkin. The minesweepers were therefore instructed on the 17th to leave the two Merchant ships which they had been escorting and to proceed at best speed to Yugorski. On completion of operations there, they were to proceed in execution of previous orders. They were further instructed that, after sweeping the Matochkin Strait area, they were to return to Yugorski in order to escort back to Archangel any Russian ships which might be ready to sail.

18.10.42

At sea

Halcyon (SO) (Cdr C H Corbet-Singleton DSC RN) with SHARPSHOOTER and Hazard were detailed for special sweeping operations with Russian convoys and sailed from Archangel in a gale. On the 18th they carried out an acoustic sweep – an Oropesa sweep was impossible because of the ice – and this completed they proceeded through thick fog, possibly only because of skill and nerve and the use of the echo-sounder, to the convoy anchorage to await the convoy. The next day, still in thick fog, the three Halcyons swept LL in negative visibility, with the 24 inch searchlights giving only a faint glimmer at one and a half cables. Two more days of sweeping followed, fortunately in better conditions, before the Russian convoy arrived.

Source: Fleet Sweepers at War, Jack Williams

19.10.42

Yugorski Shar

21.10.42

Halcyon, Hazard and SHARPSHOOTER arrived to sweep the area ahead of the returning Hopemount.. The sweeping at Yugorski resulted in the detonation of nine acoustic mines and Hazard suffered slight damage, but she was able to continue and the ships left for Matochkin Strait at 2100 on the 24th.

?

Archangel

24.10.42

For Lietachkin?

26.10.42


On the 26th the Russian Staff asked if the minesweepers could again be re-disposed so as to escort the Merchant ship Dvina from Byelushnya Bay to Svyatol Nos, and they were therefore ordered to include this duty in their return passage to Archangel (where they were required to arrive not later than 1st November) and to omit the further visit to Yugorski Strait. However, during the afternoon of the 28th the Russian plans were once more altered as the Dvina was required to remain at Byelushaya and sail with westbound ships of Operation FB. It was therefore necessary to order the minesweepers to leave her there and then return to Archangel, where they duly arrived on 31st October.


?

Elushya

29.10.42

For Archangel

31st Oct. Shooter and Hazard reported astern ‑ 50 miles ‑ they were dive bombed by 2 planes ‑ no damage. Arrived Archangel 0030. Shooter and Hazard arrived 1600 ‑ we oiled at Buc and stayed night.

Diary of LSBA William Maslen, HMS Halcyon © Pauline Maslen MMIV

31.10.42

Archangel

?


The Ruskies could be a bit odd at times. One day we went ashore to see a cowboy film. We paid at the door with fags to get in. Inside it was a dirt floor with wooden benches to sit on, and it was bloody cold. When the film started it was all Russian writing under the pictures. Talk about appreciating home! After a bit, I decided to light a fag up and passed a light to my oppoes. Suddenly I was lifted to my feet and dumped outside in the freezing snow, followed by my mates. Nobody told us there was no smoking allowed! We were gradually learning the Russian way of life.

Another day, Sharpshooter played Harrier at football inside the compound which was constructed of pine logs. We had a real ding-dong of a match as the peasants, who were really dockworkers, and their guards looked on. They were loading the ships alongside with timber - all pinewood. After the match, several of us went down into the holds of these ships to have a dance with the women and girl workers, but they hadn't a clue as they jumped all over our feet. I know some of us were limping a bit afterwards! We finished up playing Tombola on another ship.

The hard winter had now set in and it was time for the return convoy to leave. Ice packs were forming and the sea was beginning to freeze over in places. Ahead of us the Russian ice-breakers cut the way through to the White Sea and we steamed majestically in line ahead to collect the merchantmen and make for home.

Source: Edmund (Sam) Crook, Stoker, HMS Sharpshooter - A Matelot at Heart

17.11.42

At sea

(Ocean escort to home bound QP15)


The Convoy (QP15) consisting of 28 Merchant Ships, HMS Ulster Queen and rescue ship Copeland sailed from Archangel. The escort consisting of the following H.M. Ships Halcyon, Britomart, SHARPSHOOTER, Salamander, Hazard, Bryony, Camellia, Bluebell & Bergamot.

Source: ADM237/166 Convoy QP15, Commodore Meeks' Report

18.11.42

At sea

1330 Two Russian Destroyers joined. 1420 Convoy cleared entrance to the White Sea and formed up in nine columns. Light wind, slight sea.

Meeks

19.11.42

At sea

Wind S. force 6, equally, rough sea.

20.11.42

At sea

0145 Convoy reached position Lat 75.06N Long 45.02E. Weather deteriorating, wind shifted to SSE force 7, wind and snow squalls. Visibility poor. Between squalls alteration of course at position CC was made to all ships. As the weather worsened, life on the small escorts became miserable. Their entire superstructures were swept intermittently by green seas and continuously by spray which froze in the air and rattled with the force of buckshot on steel, splinter matting and the human faces exposed to it. Upper decks were lethal and ice-encrusted.

1600 Convoy at position CC (Lat 75.06N, Long 40.36E). Necessary alteration of course was made for position DD. On this course the wind and sea were two points abaft the beam on the port side and ships were labouring considerably. Wind SSE force 7, frequent heavy wind and snow squalls of force 8/9, very high sea, visibility very poor and reduced to zero during squalls. Fog signal sounded at 15 minute intervals and leaders of columns to windward were heard but none from columns to leeward. By 1830 no fog signals from other ships were heard. 2200 Wind decreasing in violence, squalls less frequent but heavy confused seas running.

Meeks

21.11.42

At sea

0010 Weather moderating rapidly, snow stopped falling, no ships in sight. 0800 Weather clear but very heavily overcast and dark, no ships in sight.

1300 Several merchant ships were dimly sighted on port beam and taken to be the Salamander party. When called by Aldis Lamp a reply was received from Bryony stating that SHARPSHOOTER with ten ships was there. Bryony took station on port bow. Ships on port side were lost sight of in darkness and haze.

1445 Course altered to 248º to make new position South of Bear Island (to avoid a wolfpack of 8 U boats). Requested Bryony to inform ships of new course. Wind shifted to NNE and increased rapidly to force 8/9 with wind and snow squalls of force 10/11, sea rough and increasing. In view of the fact that there appeared to be a certainty that a number of ships were to the southward of me, I continued 10 miles to the Southward of position off Bear Island in an endeavour to contact them.

Meeks

22.11.42

At sea

0800 Being about 10 miles south of position off Bear Island course was altered to 278º to regain track. Bryony reported that he had located ships on portside by R.D.F. and later reported they were drawing ahead. Speed increased to 10 knots.

About 1030 Bryony made a sweep to the south and south-east and later the south-west but could not contact any ships. Speed was now reduced to 9.5 knots.

1200 Lat 73.38N, Long 17.36E.

12.15 Ship observed on starboard quarter which proved to be Empire Morn.

15.15 Empire Morn joined.

1600 Britomart with Charles McCormack in company joined.

2100 Lat 73.32N, Long 15.08E. Wind and sea moderating quickly, heavily overcast, dark. From now on weather improved but owing to darkness and occasional light snow showers visibility was poor.

Meeks

23.11.42

At sea

Despite the weather the U boats located and sank two merchantmen, there were no survivors.

26.11.42

0255 Sighted SHARPSHOOTER bearing 310°, 4 miles, who was then taken in company. SHARPSHOOTER had lost the convoy in the heavy weather at the turning point in position CC and had since gone on the old route North of Bear Island, then down to the new route and cruised for 24 hours up and down South-west of Bear Island and subsequently down the new route towards position RH having sighted no ships…

0920 Arrived Seidisfiord with Echo and SHARPSHOOTER and oiled from San Ambrosio…

Source: Report of HMS Faulkner, ADM 199/721
Recommendations for immediate awards for minesweeping in North Russian Waters - SBNO

The following Officers are recommended for courage, skill, resource and endurance in successful minesweeping operations in Yugorski Sha and Matochkin Shar in H.M. Ships Halcyon, SHARPSHOOTER and Hazard. These operations were carried out against time in difficult waters made more difficult by fog and ice. The ships were operating in the face of possible attack by enemy destroyers and without support from British or Russian surface forces.

DSC Lt Cdr William Leslie O'Mara RN HMS SHARPSHOOTER

The part played by these small ships under difficult, unpleasant and hazardous conditions has been an invaluable contribution to the prosecution of the war at sea and I am glad to support the recommendation of the Senior British Naval Officer, North Russia.

Admiral J C Tovey

Source: ADM 1/14242
Date of Arrival
Location
Date of Departure
Orders, Remarks etc

27.11.42

Seidisfiord

27.11.42

When SHARPSHOOTER entered Seidisfiord on 27 November 1942 after leaving QP15 she was involved in a collision with the ss Empire Snow. Conditions in Icelandic harbours were extremely difficult, huge winds gusting and buffeting the ships, forcing them from treacherous anchor-holds in very deep water against steep rocky shores. (Ruegg)

At 0100 the weather had suddenly deteriorated and a gale blew up, under such circumstances at Seidisfiord in winter the only safe place is the open sea and most ships put to sea until the weather moderated. Some precarious moments were endured by all although the only collision occurred between SHARPSHOOTER and Empire Snow.

SHARPSHOOTER was extensively damaged above the waterline. At 0400 she managed to proceed to Hvalfjord for temporary repairs alongside the repair ship located there. (Ruegg and ADM199/721)

29.11.42

Hvalfjord

17.12.42

Returning Hvalfjord to effect repairs.

To Scapa. Repairs effected

7/12 From HMS SHARPSHOOTER. Involved in collision with SS Empire Snow bound UK. Consider her at fault.

10/12 Naval Officer in charge Iceland estimates SHARPSHOOTER will be ready to sail 18/12

18/12 SHARPSHOOTER can be taken in hand by Humber Shipwright Co Hull. Request ETA be reported FOIC Humber

20.12.42

Scapa

?

D of D 28/12 Taken in hand Hull 23/12. Damage repairs.

22.12.42

Humber

6.2.43

Completion date estimated 25.1.43

D of D 11.1.43 Taken in hand 21.12.42 Hull for collision damage repairs and concurrent refits. Date of completion 31.1.43