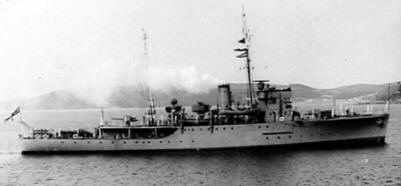 HMS Niger
Date of Arrival

Place

Date of Departure

Orders, Remarks etc

Sheerness

2/1 NIGER is expected to be ready to leave Sheerness a.m.7/1

3/1 Sailing delayed owing to defects

4/1 Taken in hand for defects

7/1 Basin trial

9/1 From C in C Nore: Subject to trials proving satisfactory it is anticipated that NIGER will be ready to leave Sheerness on 13/1

10/1 Completed

13.1.40

On 13 January NIGER had carried out a depth charge attack on a suspected U‑boat while in the Knock Deep.

Ruegg

15.1.40

Newcastle on Tyne

?

25.1.40

Invergordon

10.2.40

30.1.40

Able Seaman Isaac Wylie D/SSX16421 died age 23

NIGER was attacked again, by enemy aircraft on 30 Jan 1940 off Invergordon; 20 bombs were dropped causing negligible damage to the ship but wounding three men.

Ruegg

11.2.40

Aberdeen

17.2.40

NIGER taken in hand for maintenance

18.2.40

Invergordon

19.2.40

21.2.40

On 21/2 NIGER and Speedwell were sweeping 30 miles SE off Duncansby Head when they were asked to investigate an oil slick spotted by an aircraft. They dropped depth charges over the slick and after the fifth had been dropped there was an explosion and more oil came to the surface. This persisted for several days and the Admiralty regarded this as being a U-boat 'probably damaged'.

21.2.40

Invergordon

29.2.40

1.3.40

Made another U boat attack while in 58.2ON, 02.33W.

3.3.40

Humber

19.3.40


CLICK HERE to see Minesweeping Reports March/April 1940


20.3.40

Dover

5.4.40

Apr 40


In April 1940 Cdr. St.J.Cronyn, RN and Lt.Cdr. G.Mowatt, RNR appeared in the Navy List as appointees to the ship who by then was in the 4th Flotilla within the Nore Command. If both appointments were taken up it seems likely that Cdr.Cronyn was S.0. of the flotilla with Lt.Cdr. Mowatt as C.0. of NIGER. This arrangement was tried elsewhere during the war, but on the whole it was not favoured because of the small size of escort ships. It was probable also at about this time that minesweepers had their flags‑superior changed to 'J', NIGER's pendant becoming J.73.

Ruegg

5.4.40

Humber

?

12.5.40

Harwich

4.5.40

15.5.40

Harwich

?


The 4th Flotilla took part in Operation 'PG' which was a minesweeping operation off the Dutch coast in Mid May.

Ruegg

20.5.40


NIGER dive bombed and set on fire off Gravelines.

Ruegg

24.5.40

Humber

30.5.40
Source: Orde

HMS NIGER at Dunkirk


30.5.40

2145

On passage to N Goodwin Light Vessel in company with the minesweeper Dundalk, NIGER received signal to carry out 'ferry service' between Sheerness and La Panne

31.5.40

0700

Anchored 5 cables off La Panne. Sent in both whalers and the M/B. Considerable surf running. There was no one in charge ashore, and as soon as the boats arrived in they were seized by soldiers. One was swamped, the other overloaded and capsized. Embarked troops from yachts.

1045

Sailed with over 200 troops for Dover (being less distance than to Sheerness). Lieut R P Hichens RNVR was left behind. He moored 2 yachts as pontoons, secured grass lines to the pier of lorries and organised the boats 'pulley-hauly' on these lines, thereby increasing the rate of embarkation and avoiding the risk of capsizing boats.

1445

Arrived Dover. Disembarked 205 troops.

1715

Sailed for Dunkirk.

2240

Anchored off Brayes-Dunes

2315

A boat under oars came off with some 30 soldiers under the command of S/Lt R H Bygott RN: the boat had been towed by the tug Tanga. S/Lt Bygott reported that there were 150 troops abreast the ships. NIGER's boats were sent in but finding no troops returned empty.

2350

A S/Lt RNVR (name unknown) from the tug Sun VIII swam off from the beach and reported that his motor boat and a ship's boat were aground with some 60 soldiers, that he had got 30 off in another boat, and that about 50 more were waiting. NIGER sent her boats in again, to tow the boats off and fill up; by the time they got in, the boats had got off and left, and the troops had gone.

1.6.40

0100

A large shore boat i/c of Lt Cdr Craig came alongside with 40 soldiers, including Brigadiers Robb and Towel. At this time NIGER's boats returned with troops and continued to bring them off regularly but slowly.

0350

As dawn came, large numbers of troops were seen on the beach and NIGER's carley floats were pressed into service. Lifebelts were also sent in and some soldiers put these on and swam off. It was now nearly low water. Bray had been shelled from Nieuport continuously throughout the night.

0610

With about 330 troops, NIGER proceeded, the M/S Sutton in company. A message was received from Major-General Montgomery, through the M/S Salamander, that troops had been ordered to proceed to Dunkirk.
Arrived Dunkirk. Disembarked 310 troops.

1800

Sailed for Dunkirk, Sutton in company.

2215

NIGER anchored off St Malo. The Sutton proceeded to Dunkirk.

2225

No boats being worked from the beach. NIGER lowered her motor boat, one whaler and a boat which had been borrowed from the skoot Vrede in Dover.

2230

The boats were sent in, in charge of Lieut Hichens. 5 cables to the westward he found some French troops and embarked 50 of them.

2.6.40

0000

British troops were then embarked some 6 cables further eastward.

0255

Proceeded with about 300 troops.

Arrived Ramsgate. Disembarked 300 troops.

2055

Sailed for Dunkirk.

3.6.40

0030

Secured alongside Dunkirk east pier. Embarked about 700 French troops.

0120

Slipped, whilst turning, an unknown French craft crossed NIGER's bows and was rammed. The skipper came on board. A few minutes later the French craft came back and rammed NIGER.

Arrived Folkestone. Disembarked 700 French troops. The skipper of the French craft was turned over to the military authorities.

2100

Sailed for Dunkirk.

2233

Dense fog; speed 8 knots.

4.6.40

0030

Visibility unimproved. Passage abandoned.

0135

Anchored 3 miles from N Goodwin Light

Total evacuated 1,515

The following awards were made:

DSC Lieut R P Hichens
DSM L/Sea C F M Cooper
Mention in Despatches Cdr St J Cronyn RN

Date of Arrival

Place

Date of Departure

Orders, Remarks etc

?

Dover

5.6.40

6.6.40

Humber

12.8.40

NIGER taken in hand for refit at Grimsby by J S Doig Ltd. Provisional date ready for sea 9/7

31/7 From F O Humber: Collision has occurred between NIGER and the trawler Laurel. NIGER holed above waterline on the port quarter and degaussing gear damaged

30/7 Taken in hand for collision repairs, completes 10/8

12.8.40

Harwich

15.8.40

15.8.40

With the patrol sloop PINTAIL she provided AA protection for several minesweeping trawlers who were danlaying in 52.04N, 14.09E on 15 August.

Ruegg

16.8.40

Harwich

17.8.40

17.8.40

Harwich

20.8.40

20.8.40

Harwich

25.8.40

26.8.40

Harwich

27.8.40

28.8.40

Harwich

1.9.40

In Sept/October she was engaged on several minesweeping operations, including 'Lucid' (the plan to send fire ships into gathering German invasion fleets in French ports) and among her companions were the old 'Hunts' ELGIN and SELKIRK.

Ruegg

2.9.40

Harwich

4.9.40

Wellington Bomber: Airborne 2050 1st September 1940 from Feltwell. Flew into the sea during the return flight. P/O Burberry, the sole survivor, was rescued two days later by HMS Niger. In his report of the incident he indicated that he may have fallen asleep, but his Station Commander thought an incorrect altimeter setting was the more likely cause of the tragedy.

4.9.40

Harwich

10.9.40

10.9.40

Harwich

15.9.40

16.9.40

Harwich

20.9.40

21.9.40

Harwich

24.9.40

Cdr. D. H. Harries, RAN, was appointed to the ship on 24 September. Lt. Cdr. Mowatt was still listed as in the ship.

24.9.40

Sheerness

25.9.40

?

Sheerness

26.9.40

29.9.40

Harwich

30.9.40

1.10.40

Humber

7.10.40

8.10.40

Harwich

8.10.40

8.10.40

Sheerness

12.10.40

13.10.40

Harwich

13.10.40

0708 Drifting mine exploded as convoy approached 52° 19'N, 1° 59'E.

?

Harwich

21.10.40

22.10.40

Harwich

22.10.40

24.10.40

Harwich

27.10.40

27.10.40

Harwich

28.10.40


CLICK HERE to see Minesweeping Reports October/November 1940


29.10.40

Harwich

31.10.40

31.10.40

Sheerness

3.11.40

3.11.40

Harwich

5.11.40

5.11.40

Harwich

6.11.40

6.11.40

Harwich

11.11.40

11.11.40

Harwich

15.11.40

15.11.40

Harwich

18.11.40

18.11.40

Harwich

22.11.40

23.11.40

Humber

?

?

Rosyth

3.12.40

?

Humber

5.12.40

In December 1940, Madden joined Niger in the 4th Minesweeping Flotilla as "N", and later served in Elgin, and in Fitzroy as Senior "N" and Chief of Staff. The Flotilla was one of the first to sweep the new types of German acoustic mines. Sweeping by night, because of intense enemy air activity, in the confined waters of the Thames and along the east coast, where many marks and beacons had been removed or extinguished, required navigational skills of the highest order. Madden received six months advanced seniority for his work.
Source: http://www.telegraph.co.uk/core/Content/displayPrintable.jhtml?xml=/news/2000/10/25/db02.xml&site=5&page=0

6.12.40

Harwich

10.12.40

10.12.40

From Senior Officer 4th Minesweeping Flotilla, HMS NIGER

REPORT ON ENEMY AIR ATTACK ON FOUR FLEET MINESWEEPERS: NIGER, SELKIRK, FITZROY AND HUSSAR – 10TH DECEMBER 1940

Date & Time: 10th December 1940 1125-1140

Position: 2 miles south of No.53 buoy

Course & Speed: Flotilla in uniformed state, taking up K formation on a course 348˚, speeds 7 to 14 knots

Weather: Wind WNW force 4, sea 24, sky 10/10 covered cumulo nimbus 1000 feet, patches of fracto-nimbus 500 feet, intermittent drizzle

Two enemy aircraft – opinions differ as to the type, but the majority opinion, with which I concur, favours Messerschmitt 110's. In the low ceiling prevailing, sighting was mutual and at the time the aircraft were flying away from ships, who had ample time to open fire before being attacked. Aircraft attacked independently using cloud cover, carrying out shallow dive bombing and machine gun and cannon fire attacks.

Four or five bombs were dropped, one of which failed to explode – the others were fitted with impact fuzes; size of bombs probably 100 kilograms or larger – average distance of misses over 200 yards. Average height of release 600-800 feet. Two machine gun attacks pressed home to 300-400 feet. All ships went on to full speed and employed drastic alterations of course.

Some superficial damage to Fitzroy only – the only item of damage affecting the fighting efficiency was that the main steam pipe of M/S winch was damaged and machine bullets embedded in one drum of sweep wire, thus rendering her unfit for sweeping. No casualties on Fitzroy and no damage or casualties in any other ship. It is considered probable that at least one aircraft was damaged, the 4" shell from Selkirk was observed to burst very close to one aircraft about 5 minutes after the beginning of the action, the aircraft immediately gave a violent lurch and disappeared from view with black smoke coming from its' tail: he did not reappear although his colleague kept up the action for a further ten minutes. This other aircraft was hit by close range weapons from Fitzroy during two machine gun and cannon attacks on that ship, and pieces of his undercarriage were observed to fall off.

Bombing was so inaccurate that it is difficult to estimate which ships were attacked: it is probable that Fitzroy and Hussar were the targets. It is of interest to note that two bombs were released while the aircraft was banking at an angle of 60˚ to the horizon. Two half hearted and completely ineffective machine gun attacks were made on Hussar, that ship's 4" barrage fire probably prevented the aircraft from pressing an attack home; two similar attacks, pressed well home in a determined fashion were made on Fitzroy, with the results as mentioned above. It was extremely fortunate that the attack took place just before sweeps had been got out; had sweeps been streamed, it is considered that much damage would probably have been sustained by H M Ships, unless an immediate decision had been made to cut sweeps, which action would have resulted in the loss of a sweeping day of comparatively calm weather that is rare at this time of year.

10.12.40

Harwich

20.12.40

21.12.40

Harwich

28.12.40

23/12 From F O i/c Harwich: Request information whether NIGER can be taken in hand for refit at Grimsby about 29/12

29.12.40

Humber

1.3.41

On 29 December NIGER arrived in the Humber with HUSSAR, and the next day she entered refit at Grimsby. At that early stage in the war, it is unlikely that she exchanged one 4" gun and her 0.5" weapon for four 20mm Oerlikons ‑ it seems more probable that this exchange took place late in 1941 when she was out of action with mechanical problems.

Ruegg

30/12 Taken in hand for refit by Consolidated Fisheries Ltd Grimsby

10/2 From Grimsby Base: Request extension of completion date to 21/2 owing to late arrival of LL sweep gear.